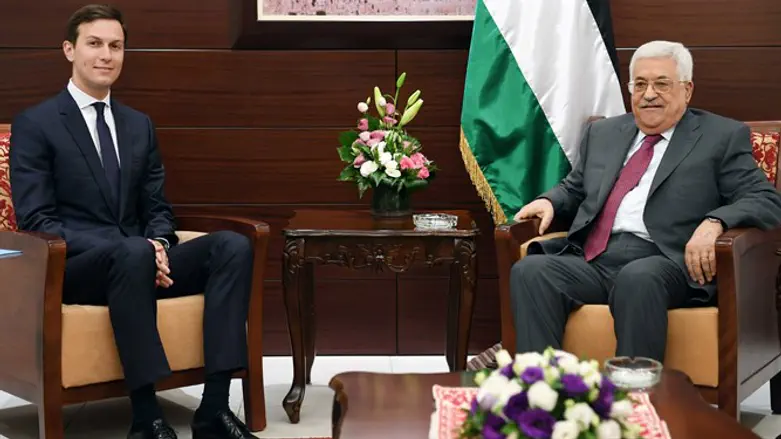 Kushner and Abbas
Reuters
U.S. President Donald Trump's senior adviser Jared Kushner, his Middle East envoy Jason Greenblatt and U.S. Consul General in Jerusalem Donald Blome, met on Wednesday night with Palestinian Authority (PA) chairman Mahmoud Abbas in Ramallah.
In a statement summarizing the meeting, the White House described it as "productive".
The sides "reaffirmed their commitment to advancing President Trump's goal of a genuine and lasting peace between the Israelis and the Palestinians that enhances stability in the region," said the statement.
Kushner, Greenblatt and Abbas discussed "priorities for the Palestinians and potential next steps, acknowledging the need for economic opportunities for Palestinians and major investments in the Palestinian economy."
Kushner, who was in the region for one day to advance Trump's peace plan, also met on Wednesday with Prime Minister Binyamin Netanyahu.
Following that meeting, the American side reported that it was "positive and fruitful" and that both sides reaffirmed their commitment to advancing the goal set by Trump to achieve a real and stable peace between Israel and the PA.
American officials stressed during the meeting that achieving peace will take time, and that it is important to do everything possible to create an atmosphere conducive to peacemaking.
While in Israel, Kushner and the U.S. Ambassador to Israel David Friedman paid a condolence visit to the family of Hadas Malka, the Border Policewoman who was murdered in last Friday's terrorist attack in Jerusalem.