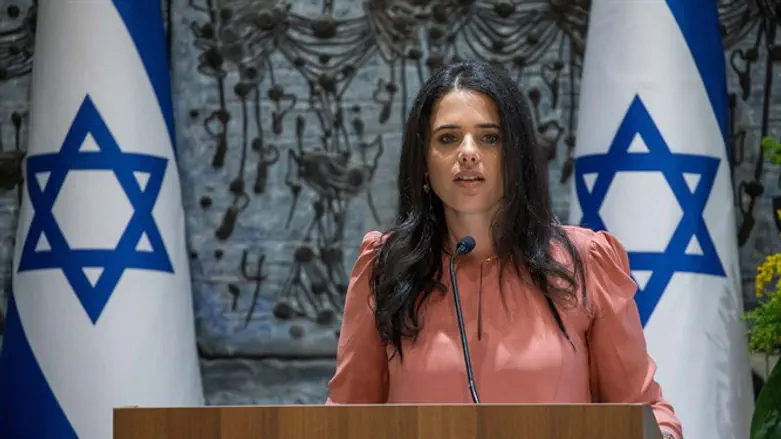 Justice Minister Ayelet Shaked
Flash 90
Justice Minister Ayelet Shaked participated in the Herzliya Conference this evening (Tuesday) as part of a one-on-one interview conducted by journalist Tal Shalev.
Shaked was asked about the construction permits in Qalqiliya and answered, "There were two meetings on the subject. Many plans were discussed in the meetings. Minister Bennett and I opposed the concept at the time."
Regarding the question of exactly what was confirmed in the cabinet, Shaked replied, "I am tired of this controversy and I suggest that the Prime Minister publish some of the protocol that we may understand what happened.They introduced the sticks and carrots program. It was mainly about retroactively recognizing illegal construction so that law enforcement in Area C on illegal Palestinian structures would be lowered in order of priority, but there was no mention of new construction."
Shaked explained that "in Area A and B the Palestinians are building as much as they want in any case. In Area C there are between 100- and 200,000 Palestinians in various areas according to various estimates. It doesn't make sense for there to be a much larger number of Israelis for whom they build 1,000 housing units, and Palestinians get tens of thousands of housing units."
The Justice Minister was asked about her party's attitude toward the possibility of renewing negotiations and answered, "We are not under pressure from a political process. If we want to sit and talk to the other side, it is possible. But it hits us almost every week that the Palestinian Authority encourages incitement and terror," she said, "they did not change their textbooks or streets named after terrorists, and their entire ethos is glorification of terrorists. In the murder of soldier Hadas Malka, we saw the Palestinian mother who prides herself on her son, the murderer. It is unthinkable if you want to make peace with each other."
Later, Shaked spoke about the electricity crisis in Gaza, noting that "at the Herzliya Conference Sharon announced for the first time the disengagement. So we disengaged from Gaza, but not absolutely. We continue to provide Gaza things. The blame for the power cut must be directed at Hamas and the Palestinian Authority.We degenerated into this situation because of a political dispute between Hamas and the PA.Hamas has money. It charges a lot of money at the crossings.The Palestinian Authority also has money.We don't need to be their arm-wrestling playthings.The Palestinian public would do well to press its leadership to pay and the international community would do well to press Abu Mazen to resolve the issue.We will be happy to provide electricity to the residents of Gaza.
"We would be happy if we could have completely disengaged from the Gaza Strip. Minister Katz's idea of an artificial island is one that many ministers support, but we must remember that in Gaza a terrorist organization holds the bodies of our soldiers and civilians, and we certainly will not start large projects as long as they hold the bodies of our soldiers and our citizens," she said.
The Justice Minister was asked about IDF KIAs held by Hamas in Gaza. "The last governments changed the perception of kidnappings. Hamas saw kidnapping as an asset and we want to change the equation that they will see it as a burden. In 1968, an El Al plane was hijacked to Algeria and the State of Israel released 24 female terrorists with no blood on their hands. A few years later we paid the same price for a tape recording of Gilad Shalit.
"In recent years, we have begun to change the equation, whether by returning released prisoners to prison, by enacting laws that make it difficult to release terrorists, or by cabinet decisions that reduced the conditions of Hamas prisoners to a minimum, like limiting family visits and so forth. Much is owed the noble Goldin and Shaul families. We have to show Hamas that as long as they hold our soldiers, they won't get anything at all with us," Shaked said.
In response to a question about the possibility of administering polygraph tests to cabinet members, Shaked replied, "I think that around a serious leak an investigation must certainly be carried out, and I have asked the Prime Minister in several cases to do so. Prime Ministers throughout the years have opposed this. If the Prime Minister says he is interested, we will certainly support it."
Towards the end of the interview, Shaked addressed the question of Israel being a Jewish and democratic state: "I think that our country is Jewish and democratic, and that these values can live side by side, and most of the citizens of the country think so," says Shaked. "Over the years, because of liberal ruling by the Supreme Court, there is a feeling that liberal values trump democrac ones.In the Declaration of Independence by the way, we do not talk about Israel as a democratic state. It's clear. Today there must be two stable legs - Jewish and democratic - Israel is one of the 25 exclusive states that were established as democratic states. There is no danger to the democratic character of the State of Israel."