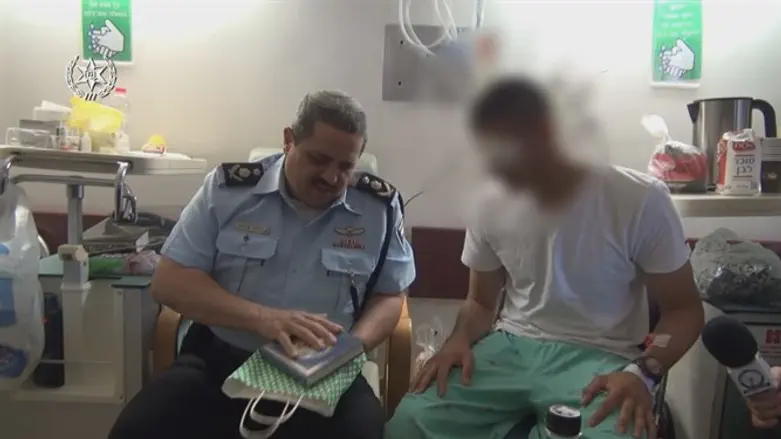 Alsheich with wounder officer
Police spokesperson
Police Commissioner Roni Alsheikh toured the area around the Damascus Gate and Zedekiah's Cave - where the terrorist attack occurred in which Border Police officer Hadas Malka was murdered Friday evening - accompanied by the commander of the Jerusalem district, Yoram Halevy and the commanders of the regional forces.
Alsheich arrived at the area of ​​the attack to closely monitor the deployment of the policemen and the soldiers two days after the attack."The biggest challenge is to bring life back to normal," he said, adding that "as important as upgrading security systems is, it should be combined with the ability to maintain a regular life."
The commissioner said: "Our challenge is to provide service and security without [creating a] contradiction between them. There is no intention of turning Jerusalem into a military fortress that is not pleasant to enter and travel in, both for Israelis and for tourists from all over the world."
In addition, Alsheikh visited the Border Police officer wounded by shrapnel in the eye during the attack that took place in Zedekiah's Cave and is being treated in the Hadassah Ein Karem hospital in Jerusalem. The officer recounted the attack to Alsheikh and told how the soldiers succeeded in neutralizing the terrorists in the end.
The police commissioner was updated on the medical condition of the officer by Prof. Itai Chowers, the head of the retina department at Hadassah Ein Kerem, who treated the officer: "First we removed the fragments that penetrated deep into the retina and performed surgery which lasted several hours. His condition will be examined again in a few days."
"Our work in conjunction with the Israel Police Forensics Department was excellent and very effective, because we actually received the precise material components that penetrated the eye, and so we knew what damage we were dealing with," the senior doctor explained.
Alsheikh told the wounded officer that: "We paid a heavy price, but I think the police functioned impressively, as policemen know how to do in every situation. Unfortunately, Jerusalem is a city saturated with friction, where the Border Police are always at the forefront and there is a price for it. I hope to see you [return to duty] soon."