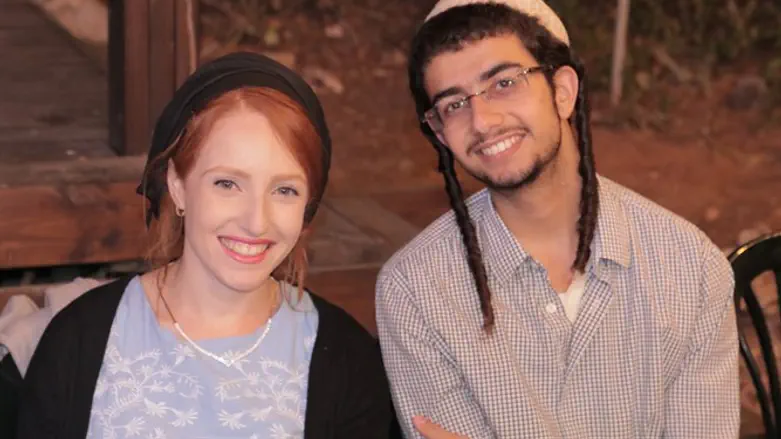 Renana and Or
Meir Pavlovsky
Yesterday (Wednesday) the "OneFamily" hall in Jerusalem hosted a Sheva Brachot (festive meals held for the first week of marriagea at which seven blessings are said, ed.) for Renana Meir, daughter of Dafna Meir OBM, and Or Cohen, who were marriedon Sunday. Family members were present, headed by Dafna's widower Nathan, Renana's father, who remarried three weeks ago to Zohar Morgenstern.
Among the guests were representatives of bereaved families from all across Israel, including David Hatuel, whose four daughters and first pregant Tali were murdered in a shooting terror attach in Kisufim in 2004, and Meir Pavlovsky from Kiryat Arba, who was badly wounded in a stabbing attack in Hevron a year and a half ago, and after recovering from his injury – against all odds – married his sweetheart, Katya. "Today I found here a new home, warm and supportive," he said.
Several weeks ago, Renana visited her mother's grave and laid an invitation to the wedding next to the grave. She posted a photo of the tombstone with the invitation next to it and wrote: "Take me far, teach me to shout like there is no tomorrow, promise me that nothing ever ends, that God stays. I was never afraid of the sea, but now every wave is intolerable. We have put an invitation on your grave and I beg that you arrive. I leave one hand free for you on the way to the chupah, please come to hold it."
The "Onefamily" Organization that organized the Sheva Brachot is an organization for supporting and helping rebuild the lives of terror victims in Israel with a combination of emotional, psychological and financial support. Today, the organization supports more than 3,550 families of wounded victims, bereaved families and trauma victims. After the terror attack in which Dafna Meir was murdered a year and a half ago, Renana joined the activity of One Family and is today a volunteer in the organization.
Chantal Belzberg, CEO of OneFamily, said: "We are so proud to host the Sheva Brachot for Renana and Or. It has been a tremendous experience getting to know Renana over the past year of her national service at OneFamily, and it's astounding to watch her grow into a married woman before our eyes. We have all learned so much from her, just watching how she lives her life. She make everyone feel comfortable, even when they feel they should be the ones comforting her."

"She speaks about choosing life despite the challenges, and she truly lives the way she speaks. We have grown very close, as all of us at OneFamily have been able to envelop her with love on a daily basis.."