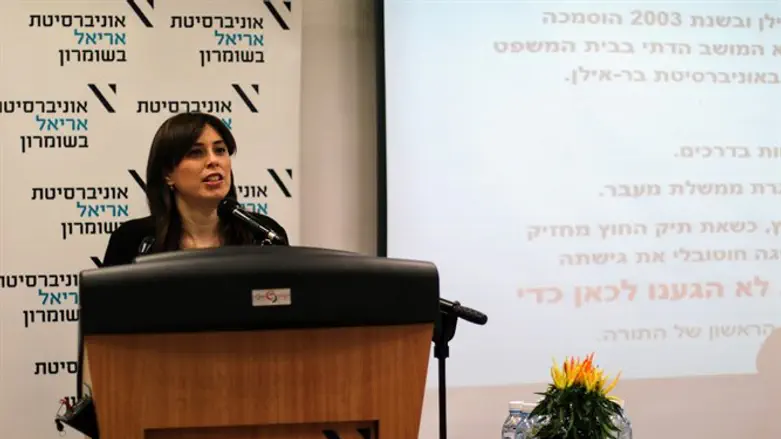 Hotovely this morning in Ariel
Self
Deputy Foreign Minister Tzipi Hotovely spoke this morning, Thursday, at a Research and Development Seminar for Eastern Israel held at Ariel University in Samaria.
"After 50 years, we need to start relating to 'settlemen't as something routine and normal," she said.
"If they approve 14,000 housing units in Qalqilya in the PA, we must demand today 14,000 housing units in Ariel and every Jewish community in Judea and Samaira," she said.
According to Hotovely, "The future of Judea and Samaria lies in urban building. We must turn the communities in Judea and Samaria into cities. That is our civilian goal. The issue of building quotas needs to be removed from the agenda. Young couples deserve housing at a reasonable price, and building in Judea and Samaria will make housing prices cheaper for them."
She added, "The policy of retreat as a way to reaching an agreement is no longer relevant. No Jewish community will be evacuated. The US administration does not see 'settlements' as an obstacle to peace."
Hotovely addressed the issue of Gaza and said, "We abandoned Gaza in a painful process of uprooting in 2005, and we don't want to pay twice and maintain a terror entity."
In conclusion, she emphasized, "I merited to be among the leaders of the lobby to turn Ariel into a university. Ariel is a success story of urban settlement, in which there is a university that will soon open a medical faculty. [Menachem] Begin said that there will be many 'Elon Morehs' - today we need to say that there will be many more cities like Ariel in Judea and Samaria."