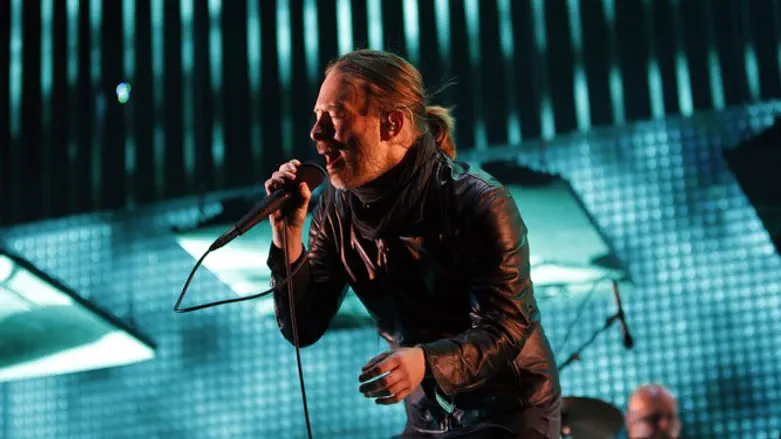 Thom Yorke
Reuters
Pro-Palestinian Arab groups have hit back at Radiohead singer Thom Yorke, who called criticism of his band's upcoming concert in Israel "patronizing" and "upsetting."
The rock icons are scheduled to close a tour on July 19 in Tel Aviv. Recently, dozens of artists sent a letter to Radiohead, urging the band to cancel its Tel Aviv concert.
Yorke responded to the campaign earlier this month, saying it sowed divisions.
"All of this creates divisive energy. You're not bringing people together. You're not encouraging dialogue or a sense of understanding. It's such an extraordinary waste of energy. Energy that could be used in a more positive way," he said.
Since he made those remarks, several groups have chastised Yorke for his rhetoric and criticized him for refusing to further discuss the topic, JTA reported Tuesday.
"Thom's is a simple choice: will he stand with the oppressor or the oppressed?" said film director Ken Loach in a statement through Artists for Palestine UK on June 5.
"Yorke complains about Israeli leader Benjamin Netanyahu and the dangers of divisiveness," the rest of the Artists for Palestine UK statement continues. "He doesn't seem to appreciate that Radiohead's concert is itself a political statement, and a deeply divisive one. It's telling the Israeli public they really don't need to bother their heads with the occupation and the boring old story of Palestinian suffering."
The Palestine Solidarity Campaign called Yorke's remarks "saddening," and the Palestinian Campaign for the Academic and Cultural Boycott of Israel said that Radiohead will be on the wrong side of history.
One of the participants in the campaign calling on Radiohead to boycott Israel was notorious anti-Israel activist Roger Waters, the former vocalist of Pink Floyd.
Waters has in the past compared Israel to Nazi Germany, saying in an interview, "The situation in Israel/Palestine, with the occupation, the ethnic cleansing and the systematic racist apartheid Israeli regime is unacceptable."
Among the artists and actors he has pressured to boycott Israel are The Chemical Brothers, Jon Bon Jovi, Alan Parsons, the Rolling Stones, Neil Young and Scarlett Johansson.