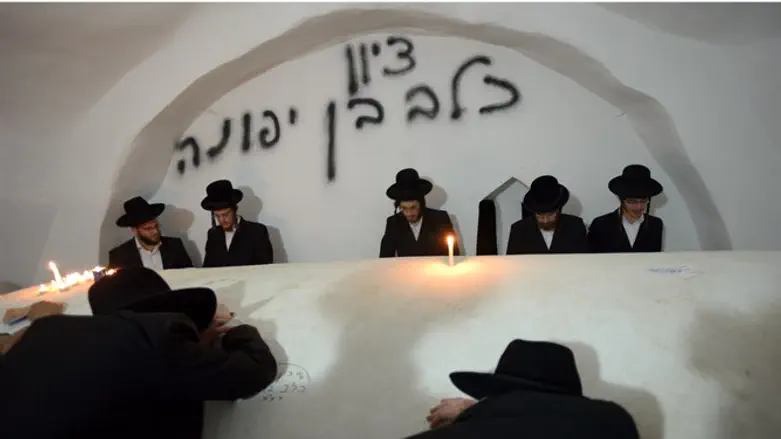 'Save me from the spies council...'
Gili Yaari /Flash90
Deputy Education Minister Meir Porush (United Torah Judaism) responds harshly to the words of his colleague in the faction, MK Moshe Gafni, who said at the Haaretz Israel Peace Conference that "the Palestinians were here before us - we took them out of here."
"Maybe Gafni came after the Palestinians, I've been here for eight generations," says Porush, "all the cozying with the left is puzzling, annoying, and useless. I told him that already at the faction meeting a week ago, "says Porush.
The haredi headquarters in the Likud responded to Gafni's remarks and said, "The man is completely cut off from the haredi public."
"When we warned on the eve of the elections that Gafni is a leftist, we meant it; the haredi public opposes the messianic fantasies of the Left, and resolutely opposes the abandonment of territories to the Palestinian murderers."
"Gafni proves how relevant the Torah is," said Bentzi Gopstein, chairman of the Lehavah organization. "Spies in Rabbinic garb there have always been," he said in response to Gafni's words at the conference.
"I do not like the legislation that this government brings in all kinds of right-wing issues. If I could, I would object. The first important thing is that the State of Israel be a Jewish state, otherwise we do not have the right to conduct negotiations with the Palestinians - they were here before us. We took them out of here."
He hastened to add that "if we do not have the historical right that the Jewish people have here, we have no rights."
Gafni explained that he does not promote political moves in the Knesset because the left does not support his position on the Reform struggle."I do not sit with the Reform. The Reform movement caused the greatest damage to the Jewish people. I do not have an alliance. I have no one to say 'on the things that are important to you we are with you through thick and thin.' I told my opinion to Netanyahu, even in the Knesset plenum. On the political issues, I am closer to the left."