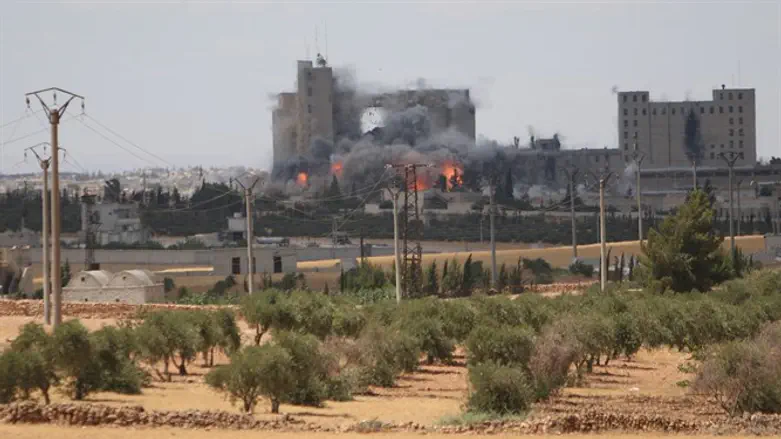 International coalition air strike (archive)
Reuters
The international coalition led by the United States "destroyed" a unit of pro-regime forces in Syria on Tuesday as they advanced near an area where coalition commandos have been training and advising rebels, a military statement said, according to AFP.
A group of about 60 pro-regime soldiers moved into the area with a tank, artillery, anti-aircraft weapons and armed technical vehicles, posing a threat to the coalition forces at At-Tanf Garrison near the border with Jordan and Iraq, the coalition said in the statement.
"The coalition issued several warnings via the de-confliction line prior to destroying two artillery pieces, an anti-aircraft weapon, and damaging a tank," it said.
U.S. and British troops are based at At-Tanf, where they train local Syrian fighters for the battle against Islamic State (ISIS) forces.
The coalition said the contingent was "well advanced" into the 55-kilometer (34-mile) de-confliction zone, where any intrusion is considered hostile.
"The coalition is not looking for a fight with the Syrian regime or pro-regime forces but it is ready to defend itself if pro-regime forces refuse to leave the de-confliction zone," the statement said, according to AFP.
It was the second time in less than a month that coalition forces have attacked pro-regime forces as they headed toward the garrison, noted the report.
Coalition planes on May 18 pounded the front of a convoy that had apparently been headed toward the At-Tanf garrison, in an established "deconfliction zone" northwest of the garrison.
Last September, the Pentagon admitted that the anti-ISIS coalition may have struck Syrian military positions inside the country, apologizing for the incident.