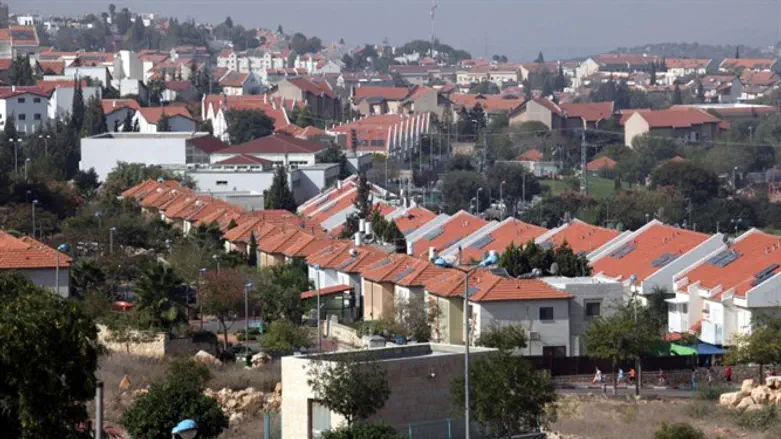 Ariel in Samaria
Flash90
The Knesset will hold a special session Tuesday marking the 50th anniversary of the Six Day War and the liberation of Judea, Samaria, and Jerusalem from Jordanian occupation.
During the event, a new plan to easing the housing crisis will be presented, one which includes the construction of tens of thousands of new housing units across western Samaria, near the crowded Gush Dan region surrounding Tel Aviv.
Members of the Yesha Council, which represents the communities in Judea and Samaria, will present the plan to a meeting of the Internal Affairs Committee during Tuesday's special session. The committee is set to discuss possible solutions for the high cost of housing in central Israel, and will feature Housing Minister Yoav Galant (Kulanu).
According to documents provided to Arutz Sheva, the Yesha Council plan is dubbed the "New Gush Dan" or "East Gush Dan" project.
Located just to the east of Israel's most densely populated region, western Samaria could house, according to the plan, an additional 340,000 people, including 67,000 in housing that could be built immediately with the existing infrastructure currently in place.
The target price for housing in "East Gush Dan" is set at an average of 1.2 million shekels ($339,000) for a four room (three bedroom) unit. That make such an apartment half a million shekels ($141,170) cheaper than a comparable apartment in Gush Dan.
"For years people have been looking for a 'super-tanker' solution to the problem of high housing prices in Israel," said Yesha Council Deputy Director Yigal Dilmoni, one of the drafters of the plan. "If we just look to the east, we find a solution that's just a 10 minute drive from Gush Dan. Western Samaria is demographically diverse and is suitable for religious, secular, and haredi Jews, and without too much effort, just approving construction plans, we can build tens of thousands of new housing units in the new Gush Dan."