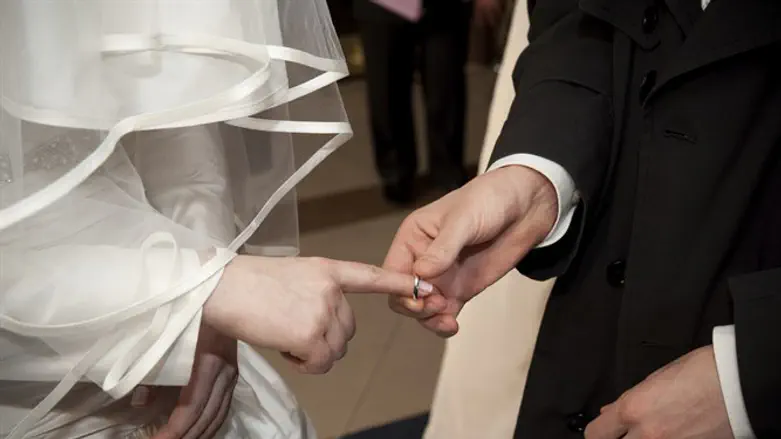 Jewish wedding (illustration)
iStock
The Tzohar Rabbinical Organization has launched an initiative to call attention to the lack of accessibility at Jewish weddings for the handicapped and disabled.
The initiative aims to make couples planning their wedding more aware of details which will ensure disabled guests aren't treated as "second class citizens."
"On the day when the couple are filled with joy and they open their hearts to invite relatives and friends to celebrate with them, we encourage them to be sensitive to the guests' accessibility issues, so that everyone can participate in the happy occasion," Tzohar Founder and Ethics Department Head Rabbi Yuval Cherlow said.
Specific examples of accessibility options include having ramp access to the chuppah (marriage canopy), setting places for wheelchairs at the ceremony and the reception, and providing accommodations for the hearing- and sight-impaired.
In consultation with the "Access Israel" association and with the "B'kol" organization, Tzohar wishes to call attention to certain options available to help make the wedding welcoming to all guests.
Some recommendations are:
The aisle to the wedding canopy should be paved and without stairs, so it is safe for elderly and those with disabilities.
A special seating area next to the wedding canopy should be set up for those hard of hearing or with physical disabilities.
Couples should appoint a staff member or family member to assist disabled and elderly guests, as well as ensure that the hall's bathrooms are available and open to people with disabilities.
Transcriptions or captions on live video screens can be set up for the hearing impaired, or sign language interpreters can be brought to the ceremony.
Cards containing the blessings said under the wedding canopy should be in large print for the visually impaired.