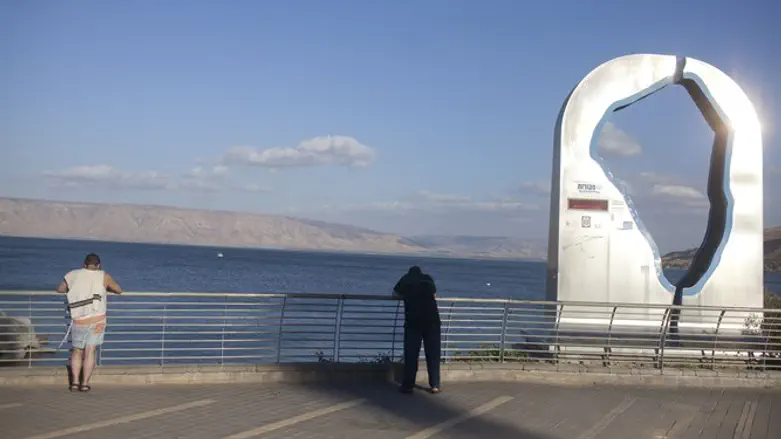 The Kinneret (Sea of Galilee) is in danger
Lior Mizrachi, Flash 90
Statistics from Israel's Water Authority's Hydrological Services show May 2017 saw a sharp drop in the water flow into the Kinneret (Sea of Galilee).
The rate of flow into the Jordan River is currently 3.3 cubic meters per second, instead of the season's norm of 7 cubic meters per second.
The amount of water available (including water from rain, streams, and springs) during May was -9 million cubic meters - the least since 1920
Since the past four years have been relatively dry, Israel's Water Authority has stopped pumping water from the Kinneret almost entirely.
More water evaporated from the Kinneret than flowed into it from the Jordan River and surrounding springs. The evaporation caused the Kinneret to lose 15 centimeters of height, placing it currently at 12 centimeters below the lower red line.
Even when Israel pumped water from the Kinneret, the water level did not drop during the month of May, and instead remained stable.
Israel's summer has not yet begun, but experts at the Hydrological Services estimate that the Kinneret will lose another meter before the rainy season begins sometime in November.
If that happens, the Kinneret will hit a low of -214 meters, which has not happened in a decade. Not only will this cause the water line to recede, it will also cause various environmental and ecological changes, as well as difficulty in boating in the northern and southern Jordan River.
The Dead Sea lost 16 centimeters of height during the month of May, and currently stands at 431.54 meters. During May 2016, the Dead Sea dropped by 15 centimeters. Since the beginning of the 2016-17 hydrological year, the Dead Sea has dropped by a total of 87 centimeters.