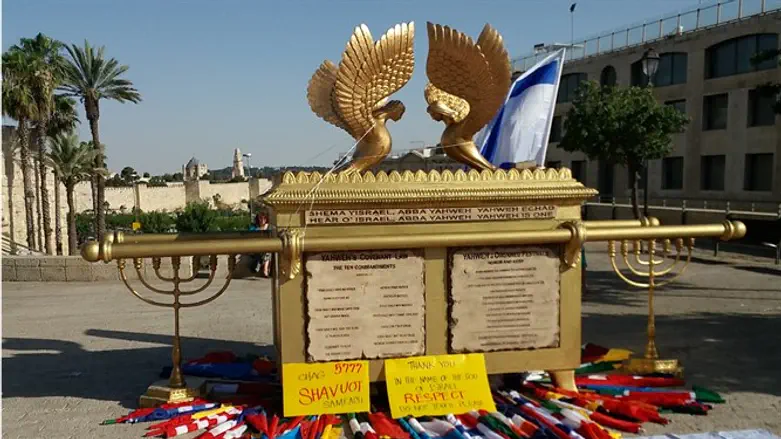 Model Ark of the Covenent
PR
A model of the largest Ark of the Covenant, the largest such model in the world, donated to the residents of Jerusalem, was demolished by vandals Thursday morning.
One person has been arrested in connection with the incident.
The building and setting up of the model of the Ark of the Covenant was conceived, constructed, and donated to the residents of the city of Jerusalem by Filipina businesswoman Grace Gupana, a resident of the Philippines and a lover of Israel. The Ark, she said, was created for all believers of all faiths, especially the residents of Jerusalem and the State of Israel, in the hope that the Ark would serve as a powerful testimony against those who do not believe in the Bible.
Gupana said that the model of the Ark of the Covenant was first unveiled in Jerusalem during the Jerusalem Day March in 2013.
She said that she was "shocked, pained and saddened about the vandalism and destruction of the Ark model," and that "the punishment of those who destroyed the model of the Ark of the Covenant will come from God."
She added that the city of Jerusalem is a place of worship for the three Monotheistic religions, and that while Israel has undertaken to provide complete freedom of worship, there are those who do not allow that to happen.
"My pain and sorrow are very great today, and the Jewish people, on the day of the giving of the Torah, must respect the believers of all religions," she said.
The model Ark was placed on a square in front of the walls of the Old City of Jerusalem on the eve of the Shavuot holiday Tuesday. It was draped in an Israeli flag.
The model weighs 1,760 pounds. It is 10 feet tall, 16 feet long, and 5 feet wide. It took 12 artists and professionals four months to build, and its construction was estimated to have cost tens of thousands of dollars.
Grace Gupana, 55 has ten records in the Guinness Book of Wold Records, including the largest ever national flag. She is a well-known Israel supporter and is descended from an ancient Spanish Jewish family, and currently lives in the Philippines. She owns an apartment in Jerusalem and visits Israel regularly.