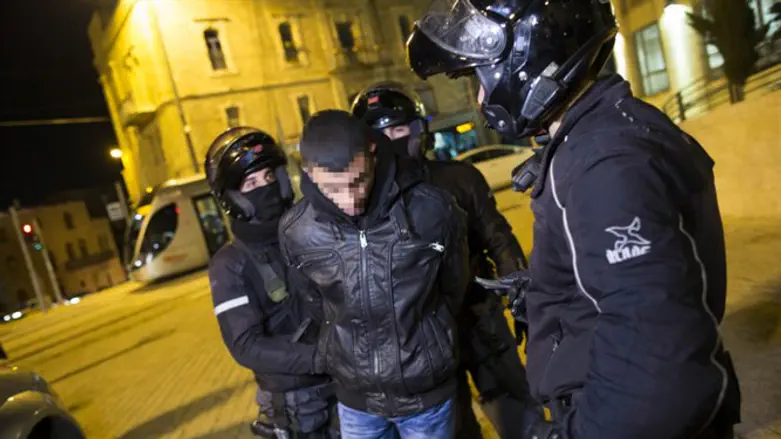 Arrest of Arab terrorist who stabbed a Jew in Jerusalem
Yonatan Sindel/Flash 90
Israel's Shabak (Israel Security Agency) exposed a terror cell whose members are suspected of carrying out shooting attacks on IDF forces at the Jabara checkpoint near Tayibe and Tulkarm in Samaria.
One of the cell's six members is a terrorist who was previously imprisoned but freed in 2011's "Shalit deal." Another of the six is a member of the Palestinian Authority's "security" staff.
When Shabak interrogated the members, they admitted to carrying out a shooting attack at the Jabara checkpoint. They also said that they had succeeded in carrying out seven terror attacks on IDF soldiers, and had attempted two more.
Members of the terror cell had planned to buy quality weapons for use in their terror attacks, but were not able to do so because of lack of funding.
The arrests led to the confiscation of several weapons, including two "Carlo" submachine guns, six pipe bombs, and an additional ad-hoc pipe bomb made from a fire extinguisher.
The cell's members were arrested.
An additional Tulkarm resident, Ahmad Abad al-Wadar Abad Alrahim Nasrallah, was also arrested.
Nasrallah is suspected of providing weapons to the terror cell for use in last month's shooting attack.
The weapons were confiscated during Nasrallah's arrest.