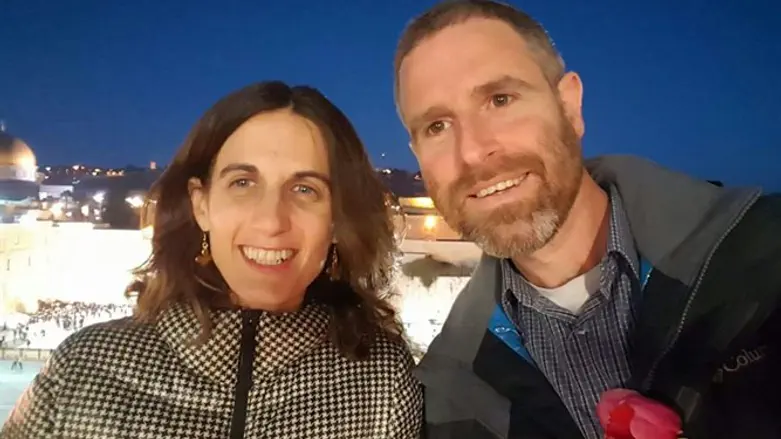 Natan Meir and Zohar Morgenshtein
Courtesy of Natan Meir
Natan Meir, whose wife Dafna was murdered by a terrorist at the entrance to her home in Otniel south of Hevron, was married today in Jerusalem to Zohar Morgenshtein.
Only close family were invited to the wedding ceremony and, at the request of the family, Arutz Sheva is not publishing pictures from the exciting event.
The ceremony was conducted by Otniel Rabbi Re'em Hakohen.
"Everyday, one must be happy. Sometimes it's hard. Very hard," Meir had written in the past on his Facebook page. "My heart is happy. I am becoming engaged to my love, Zohar. A miracle happened to me, after I merited that she called me to come on that day. I want to embrace above all my children, who support me and are happy with me. Despite everything. Thank you, beloved children. Without your supportive spirit, I wouldn't have been able to open my heart again to love."
Dafna Meir was murdered by a 15-year-old terrorist who stabbed her as she was painting her home. She fought fiercely to prevent his entering the house and attacking her children. After the attack, he hid behind bushes and escaped the scene.
He was eventually found at his home, taken from his bed and transferred to the IDF investigation unit.
In November 2016, the terrorist was sentenced to 16 years in jail and a fine of 1.75 million shekels to be paid to Meir's family. Dafna left behind 6 children, including 2 adopted children. She herself had been raised in an Emunah facility, Ahuzat Sarah, for children who cannot live at home.