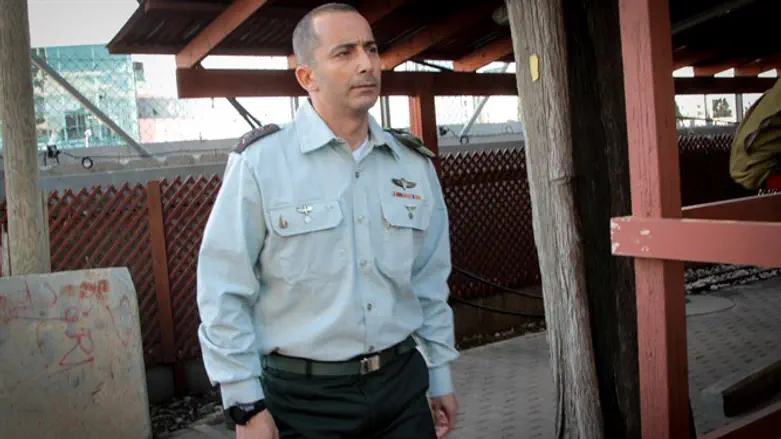 Brig. Gen. Guy Hazut
צילום: Roy Alima/FLASH90
"We feared that the Azaria incident would cause another violent outbreak and that there would be Israelis who would pay with blood," Brigadier General Guy Hazut, commander of the Kfir Brigade, said during a meeting with residents of Kibbutz Negba.
Today he will be appointed commander of the 80th Division responsible for border security in the south. The story is presented this morning in the Yedioth Ahronoth newspaper.
Hazut also stung the Prime Minister: "The Defense Minister was so determined and it was important to him, and to the Chief of Staff, and to the Prime Minister who later changed his mind, and I will not go into it, to condemn the incident - lest additional incidents erupt."
Hazut related what happened that day: "I claim that Elor has no chance in the appeal, and this is only because of one sentence he said, 'No way a terrorist who shot my friend comes out of the scene alive.' That's the sentence that led to his indictment. In another testimony, Elor said, 'I am shocked that this terrorist shot our friend Ofir and he's going to get out alive.' It was hard for me not to have any contact with the family, so I went to meet them, and I also met with Elor, but he told me, 'I do not want to talk to you.' When I asked friends and consulted with my commanders, they advised me to cut contact."
Hazut detailed what took place behind-the-scenes of the famous meeting that was recorded by the Azaria family and publicized: "Tom Ne'eman (Elor's company commander in the incident) went to meet the family and they made him a verbal lynch; they humiliated him, insulted him, and recorded him. We realized that everything we were doing was not helpful, so I decided to make contact again with the approval of my commanders. Unfortunately the father, Charlie, did not want to help his son, he just wanted to humiliate me and the system. We tried to help the family, but to me it was a tragedy. As far as I'm concerned, there are so many people who profited at the expense of the family and Elazar Azaria. That's what's sad about this story. "
Hazut also spoke about the clash of values ​​in the IDF: "What does a religious boy do who gets up in the morning, hears the Chief of Staff say about a female terrorist holding scissors not to shoot her and in the afternoon hears the Chief Rabbi of Israel say, 'Do not listen to the chief of staff.' In such a situation he is in trouble. Today, I'll tell my soldiers something and they'll pull out their smartphone and tell me, 'You're speaking nonsense, look what Bennett says, look what Gal-On says.' These are problematic situations."
In addition, Hazut said of the attitude toward soldiers: "Treating soldiers like children irritates me. That the blood of our soldiers is more sacred and redder than that of civilians, exists only in Israeli society."
The IDF spokesman said: "This was a private meeting to which the officer came on his own initiative and in civilian clothes. This does not represent the position of the IDF, and would have been better not said."