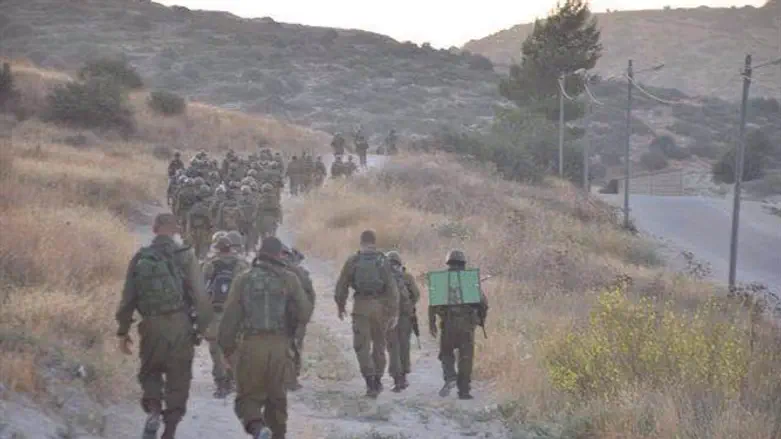 Reservists in training
IDF spokesperson
Blatant discrimination backed by the Defense Ministry against certain reserve soldiers has come to light - even as the IDF celebrates a week of appreciation for reserve soldiers.
Within the framework of benefits offered by the "With Salutation" club, which works under Defense Ministry auspices to provide support to army reserve soldiers, soldiers can obtain repair services for home electronic devices, including air conditioners, ovens, refrigerators, and washing machines at a reduced price.
The service announcement says that the repair services will be provided "in any location in the state of Israel and in any Israeli community across the Green Line -" as long as that community houses "more than 5,000 people."
The significance of this limiting population condition is that reserve soldiers living in relatively small communities in Judea and Samaria will not be able to enjoy the benefit as will reservists living in similarly populated agriculture-based communities and kibbutzim over the Green Line.
For example, a reservist living in Judea and Samaria communities like Psagot, Maale Shomron or Elazar will not be able to take advantage of the offer, while a reservist living in Kibbutz Ginosar in the Jordan Valley or Kibbutz Yotvata in southern Israel will - even though these kibbutzim also contain well under 5,000 people.
L., a fighter in the reserves who lives in Judea and Samaria, told Arutz Sheva that he was surprised that precisely a governmental office was enabling such discrimination based on place of residence. "As one who serves in the reserves and spends much time out of the house, I was interested in obtaining the repair services, and I was shocked to discover that I cannot benefit from them because of my place of residence. I pay taxes like every Israeli citizen. This hurts a little."