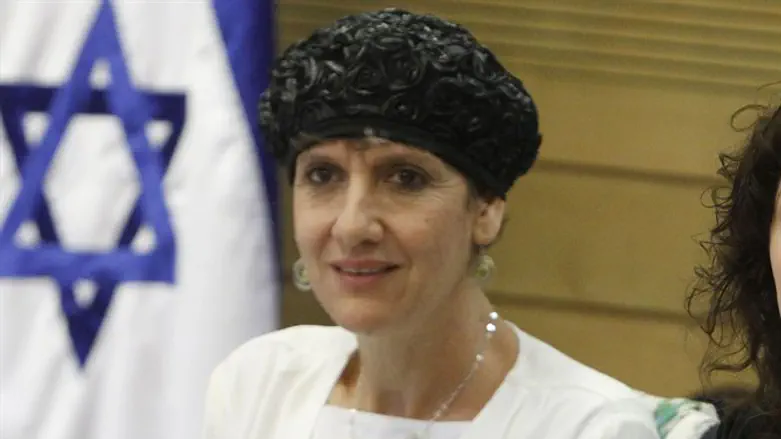 Shuli Mualem-Refaeli
Flash 90
MK Shuli Mualem-Refaeli (Jewish Home) retracted her signature from a bill proposing to change a significant portion of Israel's street names to be named after women, Arabs, LGBTs, and Sephardic Jews.
Explaining her decision, Mualem-Refaeli said she had not properly understood the implications of the way the law was written, or that it required a high percentage of streets to be named after the above groups.
Speaking to a Jewish Home activist, she said, "The bill which was shown to me, and which I signed, is different than the current draft. As a result of this discrepancy, I am retracting my signature."
The proposed law would require 40% of Israel's streets to be named after women, Sephardic Jews, Arabs, homosexual homo sapiens of both genders, and transgender individuals.
The proposal, which is actually an amendment to the Municipalities Ordinance (proper representation of names of public places), was submitted by MKs Merav Michaeli (Zionist Union), Michal Rozin (Meretz), Zahava Galon (Meretz) and another 24 MKs.
Most of the signatories were from the opposition, but some coalition MKs, such as Rachel Azaria (Kulanu), Merav Ben Ari (Kulanu), Tali Ploskov (Kulanu), Yifat Shasha-Biton (Kulanu), Sharren Haskel (Likud), and Yulia Malinovsky (Yisrael Beytenu), also signed the bill.
The proposal states, "A significant portion of public places in Israeli cities are named for persons they wish to commemorate because of their public activity, but the personalities who are commemorated are almost always men, with a significant surplus representation of Ashkenazic Jews. For example, in the city of Tel Aviv, only 2.5% (62 of 2,439) of all names commemorated in streets belong to women."
"The purpose of the bill is to bring greater heterogeneity in commemorating public work in public places of various cities, especially with regard to women, Sephardic Jews, Arabs, and people known as lesbian, gay, transsexual, and bisexual.
"It is therefore proposed that in names of the persons who are commemorated there will be representation of at least 40% of each of the types. Until such representation is achieved, 90% of the names commemorated by a municipality will be the names of women, Sephardim, Arabs or people known as lesbian, gay, transsexual and bisexual."