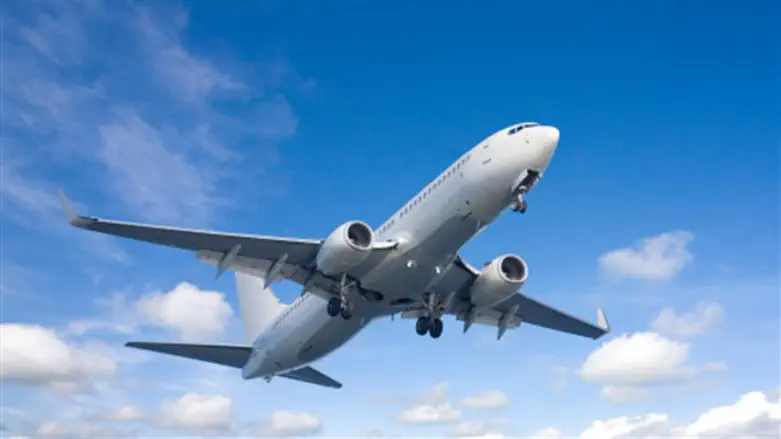 Airplane (illustrative)
Thinkstock
The Icelandic airline WOW received approval from Israeli Transportation Minister Yisrael Katz to operate direct flights from Tel Aviv to Reykjavík, the capital of Iceland.
The approval for WOW to operate flights to Iceland was given after the government approved the aviation agreement initiated by Minister Katz between Israel and Iceland, which, for the first time, allows low cost flights between Israel and the US through Iceland at special discount rates.
The approved route is part of the 'Open Skies' policy initiated by Minister Katz. In the first stage, WOW will operate four weekly flights between Iceland and Israel. WOW's first flight is expected to land at Ben Gurion Airport in about two months, on July 13, 2017.
The airline will fly from Ben-Gurion International Airport to New York, Miami, Boston, Washington, San Francisco and Los Angeles, as well as to Toronto and Montreal, Canada.
Israel was chosen by WOW from dozens of destinations and countries which had approached the company on their own initiative. WOW expressed confidence in the Israeli aviation industry as well as the 'Open Skies' policy.
Minister Katz emphasized that there is a direct connection between the increase in the supply of flights and the decrease in the prices of airline tickets. "I am determined to continue to sign additional aviation agreements and bring additional airlines to Israel, which will reduce the price of flight to local consumers and tourists."
In order to facilitate the flights, a new aviation agreement was signed between the Civil Aviation Authority of Israel and its Icelandic counterpart.
WOW's aircraft fleet includes the Airbus A-320 aircraft with 200 seats and the Airbus A-321 with 230 seats, as well as the Airbus A-330 aircraft with 250 seats. The company operates its flights to North America with the Airbus A-321.