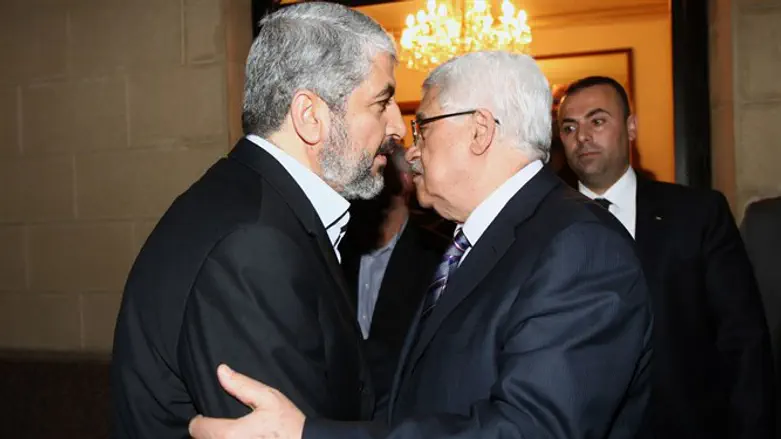 Mahmoud Abbas, Khaled Mashaal
Mohammed al-Hums/Flash 90
Palestinian Authority (PA) chairman Mahmoud Abbas's Fatah movement on Tuesday dismissed the new political document published by Hamas.
In a statement quoted by the WAFA news agency, Fatah said the document has nothing new in it.
The statement added that Hamas's announcement that it accepts a Palestinian state along the pre-1967 borders is contrary to its behavior on the ground.
"Being a realist politically is a good thing if it is within the frame of unity and national consensus and if the policies are in harmony with international resolutions and not ambiguous and inconsistent," said Fatah.
"By taking this position, is Hamas really seeking national unity or is it just presenting its credentials," it added, adding that "nothing signals that Hamas is actually moving toward national unity."
The new Hamas document, unveiled Monday by the group's leader Khaled Mashaal, maintains Hamas's longstanding refusal to recognize the State of Israel even though it accepts the idea of a Palestinian state in territories liberated by Israel in the Six Day War of 1967.
Hamas and Fatah have been at odds since 2007, when Hamas took over Gaza from Fatah in a bloody coup. All attempts to reconcile the sides have thus far failed.
A unity government between Hamas and Fatah collapsed in 2015 when Abbas decided to dissolve it amid a deepening rift between the sides.
Since the unity government was dissolved, Hamas and Fatah have held several rounds of reconciliation talks in Doha, Qatar – but with no success.