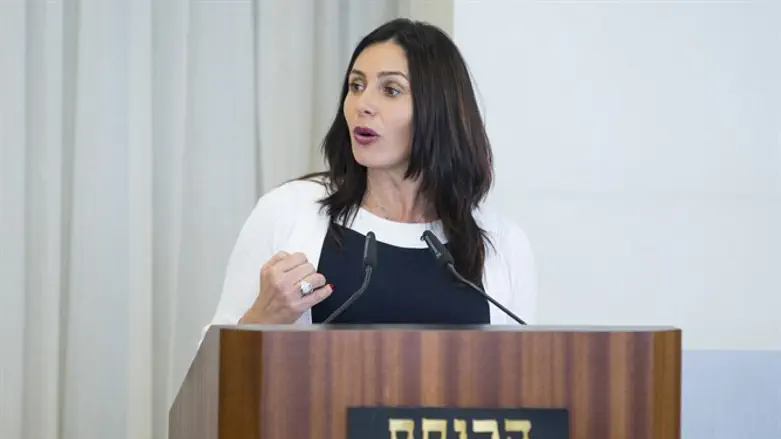 Miri Regev
Yonatan Sindel/Flash 90
Culture and Sport Minister Miri Regev (Likud) will demand at Wednesday's Cabinet meeting to close the UN headquarters in Jerusalem's Armon Hanatziv neighborhood and return the land to the state.
Her call came after the United Nations Educational, Scientific and Cultural Organization (UNESCO) Steering Committee voted to adopt a resolution denying Israel's rights to Jerusalem.
The resolution declares that "all legislative and administrative measures and actions taken by Israel, the occupying Power, which have altered or purport to alter the character and status of the Holy City of Jerusalem, and in particular the "basic law" on Jerusalem, are null and void and must be rescinded forthwith."
The resolution also condemns Israel for the military conflicts with the Hamas terrorist organization, which rules Gaza. 22 countries voted in favor of the resolution, compared to 10 which voted against it. 23 countries abstained.
"50 years to our sovereignty in the city, there is no need for the presence of UN observers. They were given the opportunity to use the compound to supervise the ceasefire agreements of the Six Day War - agreements that are no longer relevant. This saga must end," Regev told Channel 2 News on Tuesday evening.
"I intend to approach the Foreign Ministry and other relevant parties in order to return the compound, in the Armon Hanatziv neighborhood in the heart of Jerusalem, to the State of Israel," she added.
Israeli leaders from across the political spectrum slammed the UNESCO vote.
Prime Minister Binyamin Netanyahu said that fewer nations supported Tuesday's resolution than had supported similar anti-Israel UNESCO resolutions last year, but added, "I still want to make a systematic and consistent effort to reduce this even further, because these kinds of votes have no place at the UN."
Opposition leader Yitzhak Herzog called the resolution anti-Semitic.
"This [UNESCO resolution] is an anti-Semitic and anti-Israel disgrace that distorts the history of the Jewish people and their unshakable connection to their capital, Jerusalem," Herzog said.
"This is a miserable, baseless and aggressive decision that will find itself in the garbage can of history, just like the accusation that Zionism is racism," he added.