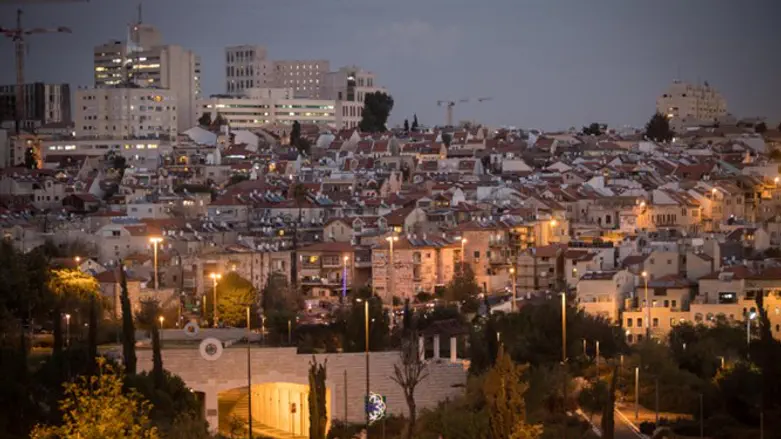 View of Jerusalem
FLASH90
A former Jordanian Minister of Culture wrote in a controversial op-ed article for a leading Amman newspaper that there is no need for Arabs to oppose the potential move of the US Embassy in Israel from Tel Aviv to west Jerusalem, according to a report by Algemeiner.
Writing for the government daily newspaper Al Rai, Tareq Al-Masarwa — in an article translated by the Middle East Media Research Institute (MEMRI), claimed that: "The Americans can move their embassy to the new [part of] Jerusalem [i.e. the western part] without sparking any serious rage among the Arabs. This is for the simple reason that the Palestinians and Arabs demand the Old City [of Jerusalem] — which they lost in the 1967 war, known as the Six Day War — as the capital of their state. I have not heard anyone demanding the 1948 part of Jerusalem [i.e., West Jerusalem], neither Hamas, the PLO nor anyone else."
Al-Masarwa also exhibited cautious confidence that PA chairman Mahmoud Abbas would have a "meaningful" visit with President Trump Wednesday and added that Trump "can play the game of 'Jerusalem the capital [of Israel]' without causing awkwardness for [either] US policy or his allies."
Al-Masarwa's comments are particularly timely as they come on the eve of a vote at UNESCO — the UN's cultural agency — on a resolution that accuses Israel of violating international law in its capital city. Jordan is not among the Arab sponsors of the resolution, which include Algeria, Egypt, Lebanon, Morocco, Oman, Qatar, and Sudan.
The resolution states that "all legislative and administrative measures and actions taken by Israel, the occupying Power, which have altered or purport to alter the character and status of the Holy City of Jerusalem, and in particular the 'basic law' on Jerusalem, are null and void and must be rescinded forthwith."
US officials have expressed their concern that UNESCO is constantly being used as a tool to delegitimize Israel.