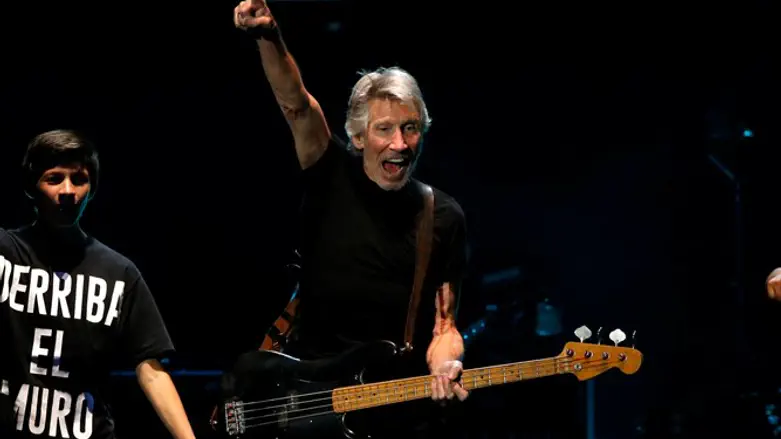 Roger Waters
Reuters
Former Pink Floyd star and leading anti-Israel activist Roger Waters admitted that his push to get Radiohead to cancel an upcoming concert in Israel had failed.
His comments came this past Wednesday at an hourlong discussion hosted by The New York Times newspaper and attended by a representative of the Washington Free Beacon website.
The Free Beacon representative asked Waters about his latest attempt to push for a boycott of Israel, to which Waters responded that members of Radiohead "seem to have decided that they are going to go ahead and do a concert in Tel Aviv."
"I have engaged in a correspondence with Radiohead, and they seem to have decided that they are going to go ahead and do a concert in Tel Aviv," he said.
"My personal view is that there is a valid picket line that has been organized by BDS, and I would prefer it if colleagues in my business did not cross that picket line," added Waters.
Waters was one of dozens of artists who recently sent a letter to Radiohead, urging the band to cancel its July 19 concert in Tel Aviv.
"Since Radiohead campaigns for freedom for the Tibetans, we're wondering why you'd turn down a request to stand up for another people under foreign occupation," said the letter.
"In asking you not to perform in Israel, Palestinians have appealed to you to take one small step to help pressure Israel to end its violation of basic rights and international law," the letter continued.
Waters is notorious for his efforts to delegitimize Israel and for repeatedly condemning colleagues who associate with Israel.
Waters has in the past compared Israel to Nazi Germany, saying in an interview, "The situation in Israel/Palestine, with the occupation, the ethnic cleansing and the systematic racist apartheid Israeli regime is unacceptable."
He previously released a giant balloon pig bearing the Star of David during a concert in Belgium. Concert-goers said the Jewish star was among several symbols representing various corporations and fascist movements.
Among the artists and actors he has pressured to boycott Israel are The Chemical Brothers, Jon Bon Jovi, Alan Parsons, the Rolling Stones, Neil Young and Scarlett Johansson.
At the New York Times event, Waters defended his anti-Israel stance, stating that all he wanted was for all of his "Palestinian and Arab friends" to have "equal rights," and that he has "nothing against Jewish people."
"They should have equal rights, and that is my only beef," Waters said. "That is what I want for my Palestinian friends, nothing more."
"I am not trying to destroy Israel, I have nothing against Jewish people," Waters insisted. "They accuse me of being an anti-Semite because it is the only way they can attack this position—which is the basic position of BDS."
BDS, claimed Waters, "want the right to return for the refugees who were kicked out of their homes by force in 1947 and 1948, and again in 1967 after the war."
"I personally agree with that—I think that to be turfed out of where you live and where you've lived for hundreds of years is wrong," Waters added.