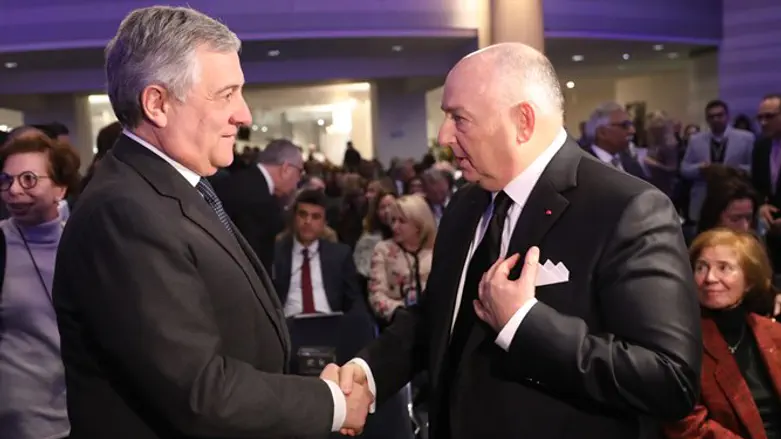 Dr. Moshe Kantor with Antonio Tajani
EJC
Antonio Tajani, President of the European Parliament, opened a conference Wednesday at the EU headquarters organized by the European Alliance for Holocaust Survivors (EAHS), the World Jewish Restitution Organization (WJRO) and the European Shoah Legacy Institute (ESLI). The conference aims to discuss the restitution of Holocaust-era assets in the 47 countries – including all 28 current EU members - that endorsed the 2009 Terezin Declaration which recognizes "the importance of restituting or compensating Holocaust-related confiscations made during the Holocaust era between 1933-45.''
Tajani opened by stating that''The Holocaust has been the worst tragedy in European history. We cannot allow time to make us forget. Remembering is not only an act of commemoration. It is an essential process if we want to avoid repeating the errors of the past.''
He also called for expediting the restoration of property stolen from Holocaust victims, stating that "restitution, together with remembrance and reconciliation, is a fundamental element to restore justice after the Holocaust. Remembrance keeps us vigilant and ready to defend freedom, peace and tolerance. Remembrance alerts us to the permanent danger of anti-Semitism.''
Tajani stated that there are still technical and legal problems preventing the restoration of property to victims or to their descendants and called on authorities in European Union countries to assist in legal procedures.
He also addressed Holocaust survivors attending the conference, stating that "I am committed to helping you all, not just today but forever."
Tajani also referred to the future of Jews in Europe, stressing that "the future of European Jews is in Europe and Europe will not be Europe without Jews.''
During the course of the conference members of the EU called on the he European Commission and all member states to each appoint Special Envoys for Holocaust Related Issues, including restitution, to accelerate activities aimed at securing justice for victims.
During the course of the conference it was revealed that certain countries are not fulfilling their obligations from the Terezin Declaration. Twelve Eastern European countries have yet to establish laws for restoration of ownerless property which was transferred to states after entire families were wiped out.
Poland in particular has totally failed to establish any laws regarding the return of property expropriated by the Nazis and by the Communist regime. This at a time when about a half of the estimated half a million survivors still living today are below the poverty line according to WJRO figures.
WJRO director of activities Gideon Taylor praised Tajani's declaration and called it a "meaningful step towards helping Holocaust survivors attain justice for confiscated property. He also called for greater support to put pressure on countries that are currently failing to meet their Terezin Declaration commitments. "Victims of the Holocaust must be able to count on the political support of the European Parliament and all European Union Member States to urge countries in Central and Eastern Europe to fulfil their responsibilities to ageing Holocaust survivors and their families.''
"Too many survivors are living in poverty, without adequate welfare support, while some states and individuals continue to benefit from properties wrongfully seized from Jewish people during the Holocaust."