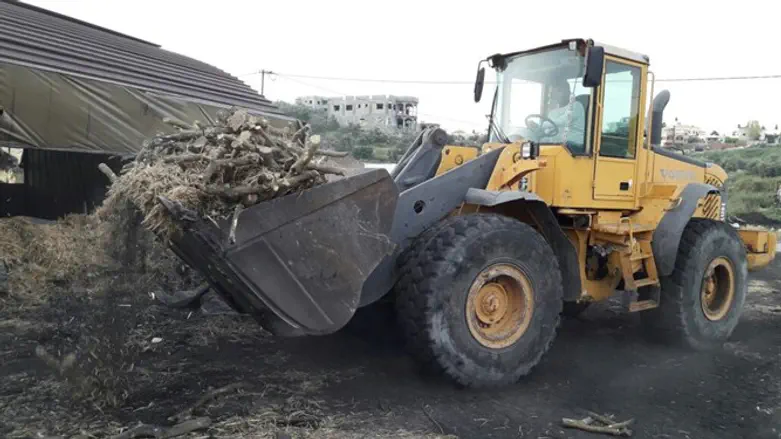 Confiscated tree trunks
Civil Administration Spokeswoman
On Wednesday morning, the Civil Administration's inspection unit confiscated a large stockpile of tree trunks and closed three polluting and illegal charcoal manufacturing furnaces in the Arab village of Yabed.
As part of a tour conducted yesterday, in order to ensure that furnaces that were closed are not working again, the inspection unit found three illegal charcoal kilns operating in the village.
The head of the Civil Administration, Brigadier General Achvat Ben Hur, ordered immediate enforcement of the law and an end to the operations and in the early morning hours, the Civil Administration forces entered the area and confiscated some 35 tons of tree trunks.
During the operation, it was found that inhabitants have begun to grow tobacco as an alternative to employment on lands where polluting charcoal furnaces had previously operated.
The enforcement against the furnaces began last November on the instruction of the Coordinator of Government Activities in the Territories, Major General Yoav Mordechai, after years of fruitless dialogue about the health hazard with the PA.
The Civil Administration carried out a large-scale operation in Yabed against the furnaces,stopping the pollution caused by the primitive methods used for coal production, which involve covering the wood with hay and earth, lighting it from a hole on the top of the pile and letting it burn slowly for 15 days at which point the hole is closed with earth until the wood turns into charcoal. Close to 70% of workers in the local industry, who do not wear protective masks, have respiratory issues, as do 25% of the area's children. The smoke fumes reach as far as Kfar Saba and cause respiratory problems for children there as well.
During the operation, the activities of all the furnaces operating in the village were closed and 160 tons of tree trunks were confiscated.
Yabed is located in Area B, and its inhabitants have made their living from the manufacture of charcoal products decades. The Civil Administration has begun to build a modern coal plant in the village that will enable an environmentally friendly solution to producing coal. This method is expected to produce 20 times more coal than the charcoal smoke-spouting furnaces, while reducing costs and production times.
At the end of the process, 15 modern and environmentally-friendly charcoal furnaces are expected to operate in the ​​Yabed area that will serve as a source of income for Arab inhabitants nearby.