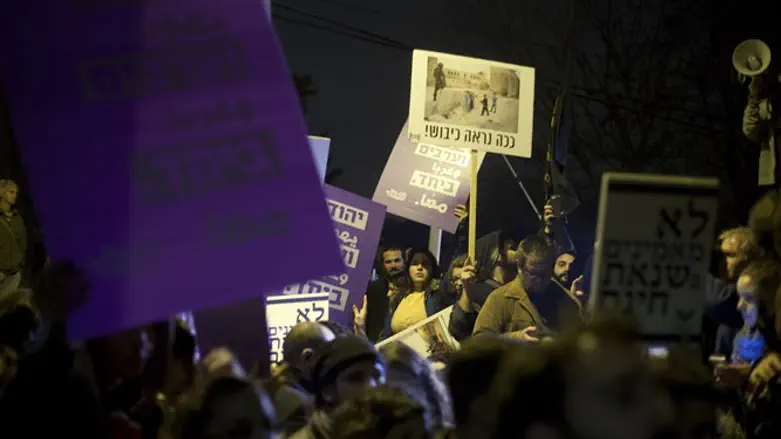 Left-wing demonstration in support of Barbour, February
Lior Mizrachi, Flash 90
In two weeks time the members of the ultra left-wing Barbour art gallery, which made headlines when it hosted a lecture by Breaking the Silence, an anti-IDF organization banned from Israeli schools, in February, are supposed to be leaving Jerusalem.
The Jerusalem Municipality decided in February to evacuate the building serving as the Barbour art gallery and to transfer the building back to the municipality within 90 days. The decision was taken in consultation with the legal adviser to the municipality, since according to the planning and construction regulations, the building is not zoned to serve as a gallery and the association in charge of the building is not authorized to be there.
However the gallery published a letter Tuesday in which they state that 'we will not vacate the building', leaving the municipality with two possible options: To revoke the eviction directive it issued or to go to court.
In the letter, the lawyer representing the gallery, Yossi Havilio,claimed that the directive was invalid, because it was based on political considerations. Havilio stated that "any attempt to hide behind technical legal interpretations is not serious. This is a fundamental and crucial issue of freedom of speech. A local authority cannot prevent the voicing of diverse opinions in a municipal property. Therefore the municipality's decision is illegal and we do not intend to vacate the gallery."
The municipality stated in response that "the public is fed up with the lies of the directors of the Barbour gallery and their cheap attempts to present the issue as related to freedom of speech. The facts are that the gallery is situated in a property which is not authorized to serve as a gallery and do not have any agreement or permit. The municipality is therefore obligated to demand that they evacuate in accordance with the by-laws and the directives of the municipal comptroller. The gallery will be evacuated in accordance with all the legal procedures and the property will serve the neighborhood as it was originally designated."