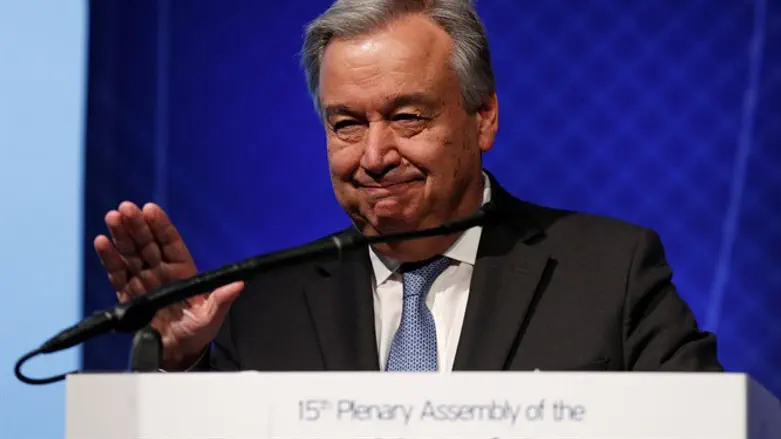 Guterres at WJC conference
Reuters
UN Secretary General Antonio Guterres on Sunday reassured international Jewish community leaders that he would stand up against any perceptions of anti-Israel bias at the world organization.
Speaking at the World Jewish Congress in New York, Guterres said he would "guarantee" that those working under him would abide by principles that he considers right.
"As secretary general of the United Nations I consider that the state of Israel needs to be treated as any other state," he said, according to AFP.
"I have already had the opportunity to show that I'm ready to abide by that principle even when that forces me to take some decisions that create some uncomfortable situations," added Guterres.
Guterres recently denounced an Economic and Social Commission for Western Asia (ESCWA) report which accused Israel of imposing "apartheid" on Palestinian Arabs, demanding it be withdrawn.
In response to the UN chief's criticism, Jordanian diplomat Rima Khalaf, who headed ESCWA, resigned from her post.
The report had drawn criticism from Israeli officials, as well as from the United States' Ambassador to the UN, Nikki Haley.
Its authors concluded that "Israel has established an apartheid regime that systematically institutionalizes racial oppression and domination of the Palestinian people as a whole."
In his remarks on Sunday, the UN chief qualified: "That does not mean that I will always be in agreement with all the decisions that are taken at any moment by any government that exists in Israel."
Guterres promised that he would be "in the frontline" in the struggle against anti-Semitism, which he warned was on the rise in Europe and America, and called "absolutely unacceptable."
His 15-minute speech was interrupted by applause at least 11 times and he was also given a standing ovation, according to AFP.
It was the first time that a UN secretary general has addressed an international gathering of Jewish leaders.
Guterres' predecessor, Ban Ki-moon, publicly admitted that there is an anti-Israel bias at the international body, though his admission came near the end of his term in office.
Haley has taken it upon herself to end the UN's anti-Israel bias. Speaking at the AIPAC policy conference recently, the American ambassador said "there's a new sheriff in town" and vowed that "the days of Israel bashing [at the UN] are over".