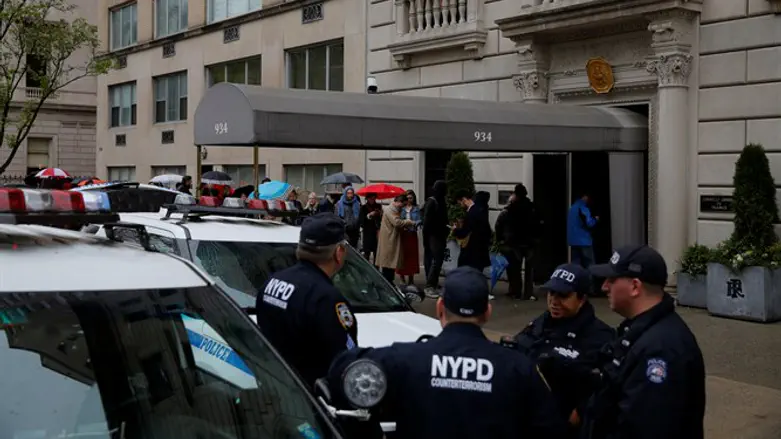 Police stand guard outside French consulate in New York
Reuters
The French consulate in New York, where thousands of expatriates were registered to cast ballots in their presidential election, was briefly evacuated on Saturday following a bomb threat, AFP reported.
A suspicious vehicle prompted police to clear the building on Fifth Avenue across from Central Park, Consul General Anne-Claire Legendre said.
"After the Champs Elysees attack, the New York police department was told to be especially vigilant," she added, referring to the attack in Paris on Thursday night in which a police officer was murdered.
Dozens of people who were inside the consualte building at about 5:00 p.m. Local time on Saturday, waited on the sidewalk while authorities checked the vehicle.
The situation returned to normal after about 50 minutes, consulate press officer Amelie Geoffroy said, according to AFP.
Voting activities, which were scheduled to take place until 7:00 p.m., also resumed, she added.
Some 28,500 French citizens living in New York, New Jersey and Connecticut are registered to vote at the consulate.
Security measures were strengthened at French polling stations across the United States following the attack on Thursday, which was claimed by the Islamic State (ISIS).
France has been rocked by a wave of deadly jihadist attacks which began on January 2015 and have killed more than 230 people. The country remains on high alert.
Last week, French security services arrested two men accused of plotting an attack.
Previously, French authorities arrested four members of a family as part of a preliminary investigation in connection with a plot to carry out an attack.