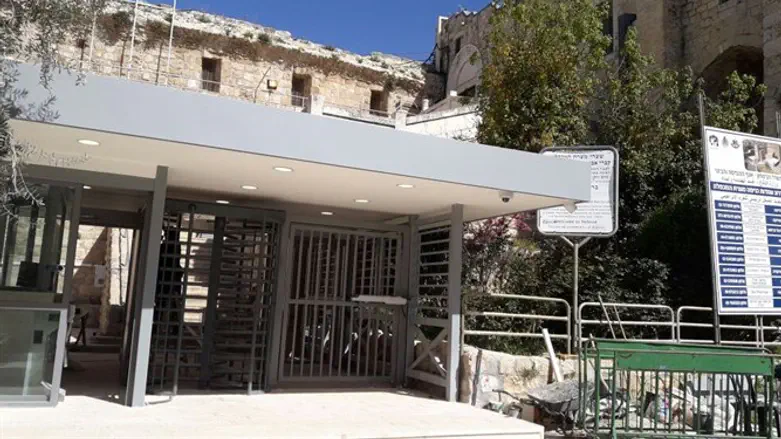 Inspection facility at entrance to Cave of the Patriarchs
Hevron Spokesperson
A scene broke out his morning, Sunday, during the opening ceremony for a new inspection station at the entrance to the Cave of Machpela in Hevron.
Right-wing activist Baruch Marzel, a resident of Hevron who was on the Yachad political party list which failed to pass the electoral threshhold in the last elections and who is a frequent visitor to the Cave, expressed strong criticism of the new station to head of Central Command General Roni Numa, in the name of visitors to the site.
Marzel told the General, "This is the first time that we're celebrating a mistake We're talking about an ugly structure that, aside from the dangers it poses to security and the damage it causes to the most important historical site in the world, has no benefit whatsoever."
Marzel added, "The structure does not include any access for the disabled, the passageways are narrow and include many barriers, and a visitor will get the impresson that his presence is not desirable." After an exchange of words, police distanced Marzel from the area.
Spokesperson for the Jewish community of Hevron Noam Arnon also joined the criticism, saying, "The new megalomaniacal inspection station at the entrance to the Cave of Machpela is a big mistake bordering on environmental crime. The structure may be fitting for a security facility, but creates a conspicuous and ugly blockade at this holy and historic site. The narrow entrances prevent the entry of the elderly, disabled and those with other limitations or accessability equipment."
"It is unfortunate that, before they made such a big investment, authorities did not bother to consult with tourism authorities and those responsible for maintaining the site for the benefit of visitors and pilgrims. Repairing the facility in the future will require massive funding, and only after unnecessary suffering and difficulties which could have been prevented."