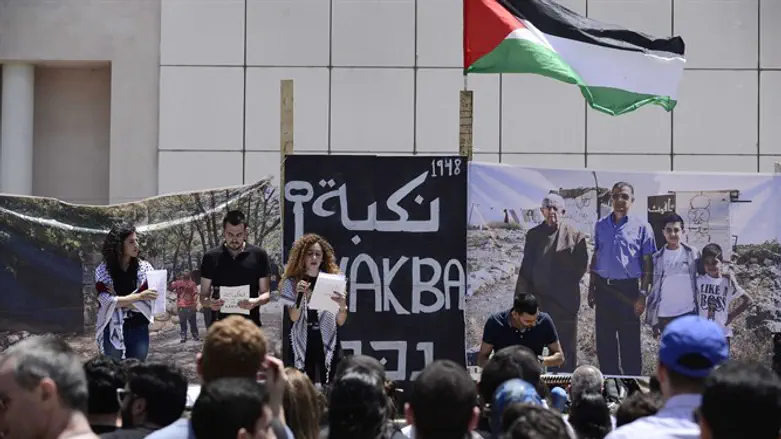 "Nakba" demonstration at Tel Aviv University (file)
Tomer Neuberg/Flash 90
Jewish residents of the western Galilee region and relatives of soldiers who fell in battle during the War of Independence are shocked at news that Arab-Israelis are planning to hold their central "Nakba" celebration this year on Israeli Independence Day - at the site memorializing the fallen soldiers of the Yehiam Convoy.
During the War of Independence, the Convoy had been tasked with bringing supplies to Kibbutz Yehiam in the western Galilee, as the Kibbutz had been bombarded non-stop by Arab forces. Along the way, the Convoy was ambushed by Arabs, and 47 of its members were killed.
This year, the so-called "National Committee for the Protection of the Rights of the 'Displaced'," which organizes "Nakba Day" ceremonies, is planning to hold the central Nakba ceremony at the memorial site for the fallen soldiers of the Convoy, and expects an attendance of some 25,000. On "Nakba Day," held annually around the time of Israeli Independence Day, Arabs in Israel lament the "catastrophe" of the creation of the State of Israel.
Family members of fallen soldiers are demanding that authorities prevent the event from taking place at the memorial site. "We come to the site on memorial days and on Independence Day to remember the fallen who fought bravely to free the trapped [Kibbutz] Yehiam. It cannot be that, suddenly, a march is held at the memorial site for the fallen," said Yael Shavit and Nili Pachter, relatives of fallen commander Ben Ami Pachter, who led the Yehiam Convoy. "We demand that the march be transferred from the site of the memorial."
Similarly, local regional council head Yoram Yisraeli slammed the planned event, saying, "It will not happen. On Independence Day, Jews will celebrate Independence Day. I will not give my hand to the rally. Let the organizers pick a suitable place to mark the Nakba."