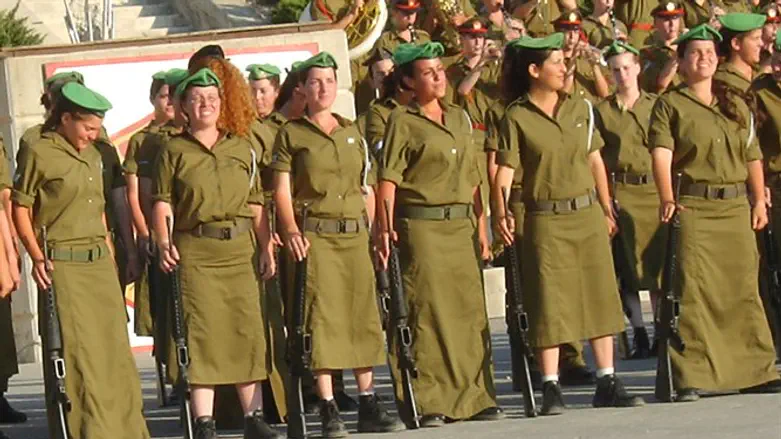 Religious female soldiers
Illustrative: Courtesy of 'Aluma'
Dozens of parents whose daughters study in the national religious education system (Hemed) signed a petition calling on Education Minister Naftali Bennett not to allow organizations that try to persuade religious girls to enlist in the IDF to appear before high school students.
"These programs convey a lack of trust in the significant contribution made by girls in the Hemed system within the framework of national service, and they contradict the values of Hemed on which the girls' education is based."
The Chief Rabbinate, during the terms of both religious Zionist and haredi Chief Rabbis, has unequivocally prohibited women's IDF service since the establishment of the state. National Service was created to form a framework for girls to volunteer to serve Israel after high school in much-needed capacities.
Rabbi Moshe Shahor from Sderot, who signed the petition, said: "I have a daughter of high school age, and the Torah-inspired sense of purpose that we want to give to our daughters is opposed to girls serving in the IDF. It cannot be that, in institutions which teach faithfulness to Torah and Torah values, there is encouragement of IDF service for women, which is problematic from the perspective of Jewish law. Most Torah authorities did not allow women to serve in the IDF."
The Rabbi added, "There never was a downward spiral like this, and it's a pity that there are those who are giving in to radical elements trying to change the values of religious Zionism."
The Chotam organization said: "from a poll released this week, it turns out that a large majority within religious Zionism supports the significant contribution of girls through national service programs, and sees in this the proper path for a religious girl. We hope that the education ministry will respect the wishes of the parents and not allow the entry of organizations [into the national religious education system] working against their educational worldview. We call on the education ministry to allow for the independence of Hemed, and stop the advancement of attempts to bring in bodies attempting to belittle the contribution of national service and working against the position of parents, towards getting the girls to enlist in the IDF."