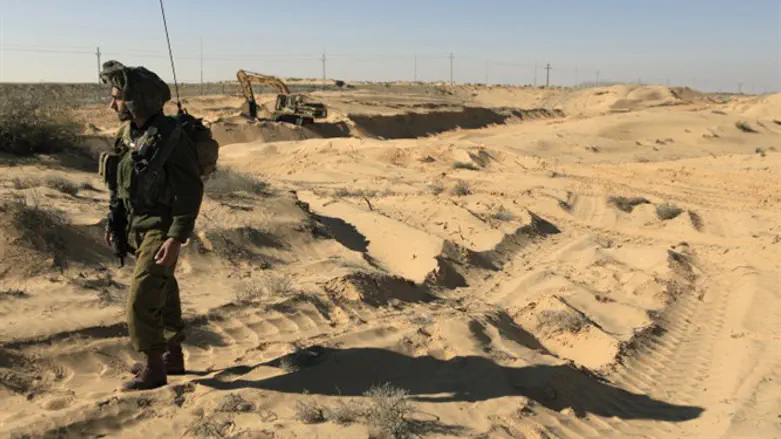 IDF at Sinai border
Flash 90
The Counter-Terrorism Bureau issued a focused warning to Israelis staying in the Sinai peninsula, in light of warnings of a terrorist attack planned by the "Islamic state" (ISIS).
Arutz Sheva spoke with Brig. Gen. Yigal Pressler, former advisor to prime ministers on the war on terror, about the warnings, and especially Israeli apathy towards them.
At the outset Pressler refers to the very decision to issue such a warning and makes it clear that such action is taken only in the wake of data, intelligence, and information from the field. "They scan all the information, assess its credibility, and if they decide to issue a notice, it is apparently an up-to-date and reliable warning."
Pressler was asked how much the decision-makers in the security arena are concerned about the relationship between the State of Israel and the state to which the alert applies, in this case Egypt, but in other cases it was also other countries. According to Pressler, when it comes to Egypt and Sinai, there is coordination between Israel and Egypt. "This is a dangerous place for both the Egyptians and for us, especially when it comes to Passover, when there are many vacationers who go on holiday and it is impossible to sweep this information under the carpet. It is possible that nothing will happen because many plans are foiled, besides those reported in the media."
Referring to the indifference with which Israelis relate to the warnings and the complacency with which Israeli vacationers receive the reports and the warnings, viewing them as nothing more than the system covering itself, Pressler says: "We know that going on vacation costs a lot of money, and Sinai is a calm and beautiful place and everyone thinks it will not happen to me. But it is the duty of the security forces to speak up and take steps."
Pressler mentions that in his tenure as advisor to several prime ministers, he often had the opportunity to close the border with a certain state that had been warned about. "I'm not prepared to take the risk, even though there will be unpleasantness for Israelis planning vacation, security is more important." This possibility of closing the border with Egypt is now being considered by the defense establishment, and Pressler notes that such a decision is based on indications on the ground, intelligence reports, and various sources. "I have no doubt that this is in coordination together with the Egyptians."
Pressler was also asked about calls for sanctions against those who ignore warnings. Pressler is not in favor of the sanctions approach, except in a case where the border was closed by the defense establishment, and yet someone infiltrated; only then "I certainly would take steps."