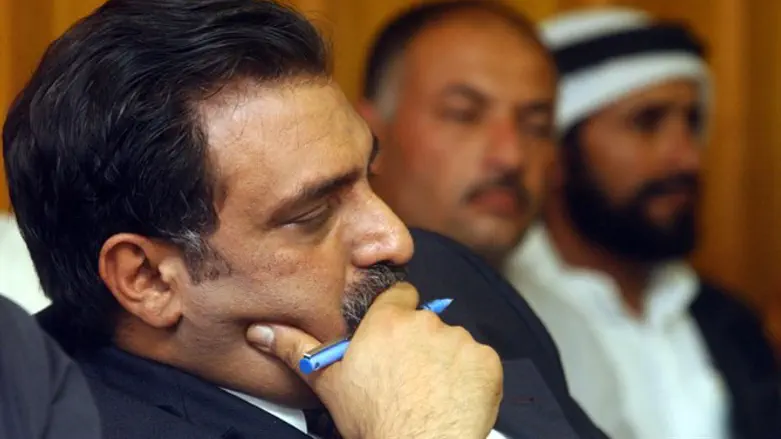 Former MK Azmi Bishara
Flash 90
Former Arab MK Azmi Bishara, who was suspected of spying for Hezbollah during the Second Lebanon war a decade ago and ran away from Israel to evade arrest, told the Qatar-based Al-Arabi television channel about his escape from Israel and his meetings with Hezbollah leader Nasrallah.
Bishara now resides in Doha, the capital of Qatar and is director of the Arab Centre for Research and Policy Studies. He said in the interview that "I met Hassan Nasrallah a number of times after I left Israel. I stress however that the subjects of discussion were not security-related as Israel claims they were around political matters. I believe that any discussion of the issue will be unhelpful."
Bishara added that while he was being investigated in Israel a decade ago he realized that he would be accused of cooperating with the enemy in time of war. "This is the most severe criminal accusation in Israel and the only one which carries a death sentence besides Nazi war crimes. Since the death sentence is not implemented it usually means a life sentence in jail."
Bishara related that he had no problems leaving the country as the state had not removed his immunity as an MK in order not to reveal the nature of the investigation against him. After he left the country and became aware of the accusations against him, he went to Qatar where the nation's leader, Sheikh Hamad Bin Halifa Al-Thani, an old friend of Bishara's, welcomed him and said "this country is your country." He said he was also well received in Syria and when he visited Lebanon the former president, Emile Lahoud, asked him to stay there.

Bishara said that he favored the "Lebanese opposition's approach" as he termed the Hezbollah, since "they wanted to attain achievements and not just to fight. They wanted to liberate Lebanon." He said he felt they were using the right tactics to liberate Lebanon but denied having leaked secrets to them. " I was aware of my status as a public figure and a Knesset member and therefore did not discuss security issues of any kind, " says Bishara.
Bishara said that he now opposes Hezbollah's policies in Lebanon and Syria since they utilize their power to promote religious and ethnic goals but at the time he respected Hezbollah's goals and felt his stand in support of them had achieved more positive than negative results.