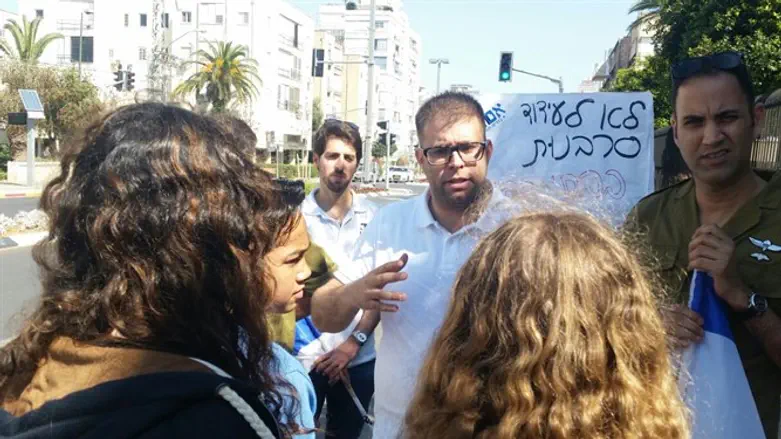 MK Oren Hazan at protest
Im Tirtzu
Veterans and soldiers of the IDF, along with activists from Im Tirtzu, protested outside a high school in Tel Aviv against a school project depicting IDF soldiers as war criminals and human rights abusers.
MKs Oded Forer (Yisrael Beytenu) and Oren Hazan (Likud) joined the protesters.
Last week, students at the Gymnasium were asked to participate in an ongoing exhibit, simulating the activity of roadblocks in Judea and Samaria, which presented the soldiers in a negative light.
MK Oded Forer (Yisrael Beytenu), a member of the Knesset Education Committee, said during the demonstration: "This exhibit is a scandal. It is time for Education Minister Bennett to stop the possibility of some school principals doing their own thing. The red lines have long been crossed."
Liran Baruch, a paratrooper who lost his eye in combat, wore his uniform for the first time since his injury to protest the delegitimization of the soldiers. "My injury happened as a result of activities the 'human rights' organizations in the Qalandiya area. They caused a mass riot which resulted in my left eye being injured - even so, I did not open fire because I did not want to accidentally harm the innocent."
He added, "It is sad to see how far this[school] administration has gone. We, the IDF injured, its veterans and soldiers, are here to protest the school's rampant absurdity. The principal of this institution must remember that freedom of expression has limits. The red lines are long-since passed."
Tom Nissani, the head of Im Tirtzu, called the exhibit "a travesty."
"We came here today to protest against the humiliation of IDF soldiers and the harm done to them by the first Hebrew high school [in the history of the state] the Hebrew Gymnasium. We call on the Education Ministry to intervene immediately and stop the political exploitation of students in the State of Israel."