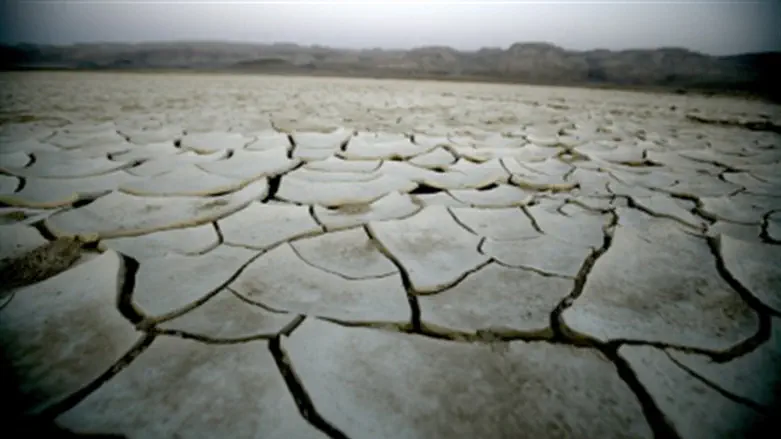 Drought (file photo)
Flash 90
The Water Authority has summed up the winter of 5777 (2016-17) and finds that it's the fourth year in a row of below-average rainfall.
As a result of the drought, the farmers in the north have had to begin irrigation much earlier than usual. Water usage in the agricultural sector is up by 11%, and in cities and homes by 6% - for a total of increase of 130 million cubic meters, or enough to supply Israel for more than a month.
Only 75% of the yearly average has fallen as of now, with no major rain expected for the past several months. The month of February had the least rainfall of any February since measuring began some 90 years ago.
The level of the Kinneret Sea, Israel's largest reservoir, has climbed exceedingly slowly over the past weeks, standing four centimeters below what the government has determined is the "red line," 213 meters below sea level. This is the first time in ten years that the Kinneret has been so low towards the end of the winter.
Over the course of the summer, Kinneret evaporation is expected to cause a loss of a centimeter a day. Israel's other natural reservoirs are in similar straits, and the Water Authority says that the grave situation emphasizes the need for a new desalination plant in the western Galilee. This, even though more than half of Israel's water supply already comes from desalination.
Construction of the new plant is being held up because of objections by local residents, supported by a decision of the Knesset Economics Committee in January. Experts say the plant should be built much closer to Haifa, where the water is needed, and residents say the plant smack in the middle of agricultural areas will block their growth and pollute the fields.