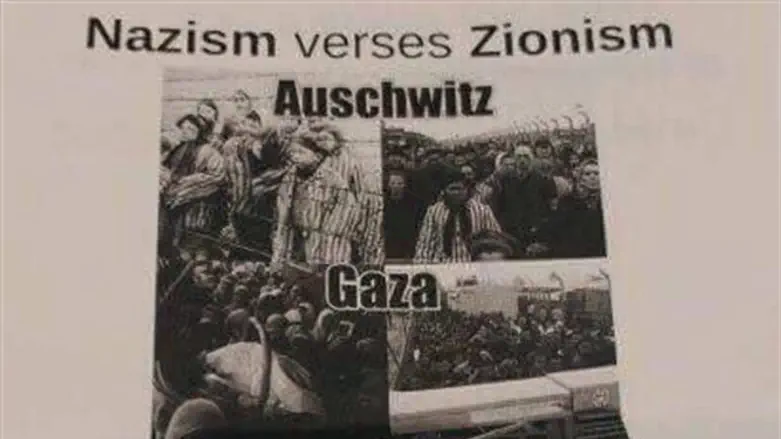 Anti-Semitic flyers posted in UIC
Courtesy of Eva Zeltser
Just days after posters accusing Jews of benefiting from "Jewish Privilege" were discovered on the University of Illinois at Chicago campus, Jewish students say yet another wave of anti-Semitic materials has been found on school grounds.
Last week, posters accusing Jews of economically dominating the United States were found plastered around campus.
"ENDING WHITE PRIVILEGE… STARTS WITH ENDING JEWISH PRIVILEGE"
"Jewish Americans make up 2% of the population. 44% of these Jewish Americans are in the top 1%," the posters read.
Following a letter by UIC Chabad House President Eva Zeltser to school administers, UIC pledged to investigate the incident.
"As we investigate this recent event, we strongly encourage all members of our university to exercise their right to free speech in a manner that recognizes these principles and avoids prejudice or stereotypes," a statement issued by the UIC administration read in part.
But on Saturday students discovered four new sets of flyers printed in a similar style and hung up around campus, including on a library message board.
The new flyers make explicitly anti-Semitic references, and continue to accuse Jews of enjoying "Jewish Privilege" and controlling the US.
One of the four new flyers compares Zionism to Nazism, contrasting a picture of Auschwitz where over 1.5 million innocent Jews were murdered, with a picture labelled "Gaza".
"The largest Concentration Camp [sic] in the world today is owned and operated by Zionists," the flyer claims.
The new series of flyers even appears to anticipate criticism of the anti-Semitic messages, claiming the documents are not anti-Semitic; rather they are part of the pursuit of "Social Justice".
"Standing up for Palestine is not anti-Semitic. It is not defamatory. It does not insult anyone. It is Social Justice".
A flyer appeared to question the veracity of the Holocaust and defend Holocaust denial, comparing the Holocaust to fringe conspiracy theory beliefs.
"You are allowed to believe…
"The Queen is a shape shifting reptilian and 'The Globalists' put chemicals in the water to make the frogs gay…
"But when you question the 6 million they put you in jail in 17 countries.
"Expressing a dissenting opinion about history is not a crime… It is a human right."
A third flyer expressed support for former University of Illinois professor Steven Salaita, who was booted from the school after a series of anti-Semitic tweets. The flyer blamed "a wealthy Jewish donor" for Salaita's dismissal.
The fourth flyer reinforced the message of last week's posters, again calling for an end to "Jewish Privilege".
"Ending White Privilege… Intersects Ending Jewish Privilege."
"If Jewish Americans make up 2% of the population… Why do they get a special Privilege when it comes to top universities?"
While last week's posters were not credited to any group or individual author and left no evidence of whether far-left or White supremacists were responsible, the flyers found Saturday referenced the radical left-wing Black Lives Matter movement, #WeAreAllMuslims, and #StandWithPalestine.
Following the second wave of anti-Semitic flyers, Arutz Sheva reached out to UIC for comment on the discovery as well as the investigation into the posters found last week. As of the writing of this report, the UIC has declined to respond.
Anti-Semitic flyer at UIC
Courtesy of Eva Zeltser