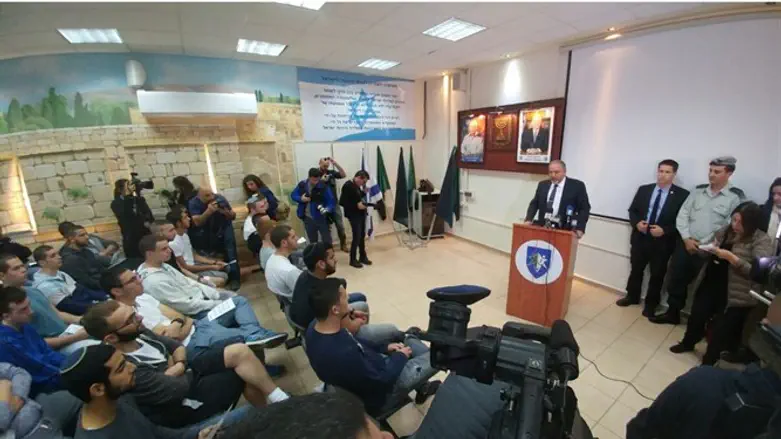 Avigdor Liberman visiting tank soldiers
Yoni Kempinski
Israeli Defense Minister Avigdor Liberman (Yisrael Beytenu) on Sunday visited the "Meitav" military base in Tel Hashomer, in honor of the March 2017 tank draftees,
During his visit, Liberman emphasized the importance of the Armored Corps.
"Even in this cyber age, we still need the Armored Corps," Liberman said.
He also spoke about the ultimatum given to Eli military preparatory (mechina) yeshiva head Rabbi Yigal Levenstein, and his demand that Levenstein resign his position.
"The IDF contains all the diversity of Israeli society," Liberman began. "You have certainly heard about heated arguments regarding this rabbi or that rabbi. The IDF allows everyone to find his place - and this means generalized criticism of Jewish girls in the IDF is unacceptable.
"We have closed our eyes to it twice, but the third time is too much. We want to keep the mechina in Eli, and we want to keep the IDF as it currently is. Those who support Rabbi Levenstein need to understand that he is sacrificing the Eli mechina."
Speaking with the Israeli media regarding the situation in Syria, Liberman said, "You need to understand that the IDF does not act out of context. If it acted - there is a reason. We have no desire to involve ourselves in the Syrian conflict.
"What bothered us was the transfer of Syrian weapons to Lebanon. We could not compromise on this issue. If Syria and Lebanon attempt to attack or disrupt our planes - we will destroy them. But I emphasize that we are not interested in this, and we have no desire to fight with Syria."
Regarding the current coalition crisis, Liberman said, "Anyone sane understands that the last thing Israel needs right now is new elections. I hope the parties will agree to compromise. Each of them must do his best."