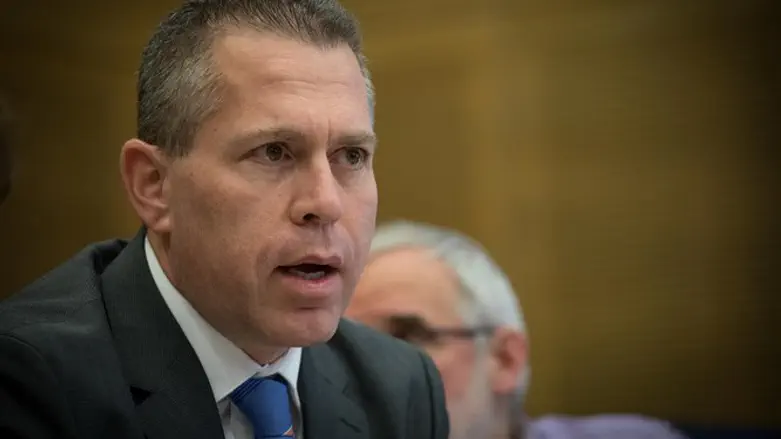 Gilad Erdan
Yonatan Sindel/Flash 90
Minister of Public Security Gilad Erdan (Likud) on Thursday evening criticized the plea bargain with MK Basel Ghattas (Joint List), who smuggled cellular phones to imprisoned terrorists.
Under the agreement, Ghattas will serve just two years in prison in exchange for a guilty plea and retirement from the Knesset.
"I find it difficult to understand why the prosecution is satisfied with only two years in prison for Ghattas over acts of assisting to terrorism, when the evidence is so solid. I hope the court will impose a much worse sentence," Erdan wrote on Twitter.
Erdan pointed out that Ghattas took advantage of his immunity as an MK, "tried to help a terrorist and put many lives at risk. Two years? For economic offenses, in Israel in many cases three years in prison are imposed and even more."
MK Robert Ilatov (Yisrael Beytenu) also criticized the agreement with Ghattas and said, "This is a very light punishment that will severely impair deterrence and encourage such despicable actions in the future."
"MK Basel Ghattas will be released from prison after only two years, and will be considered a hero and a righteous fighter by all those who wish to annihilate the State of Israel," added Ilatov. "This is not the message we want to convey to traitors and spies who are constantly working for the destruction of the State of Israel."
MK Revital Swid (Zionist Union) said that "Ghattas is a criminal whose place is in jail and not in the Knesset as the plea bargain proves. The plea bargain saves us just in time from Ghattas's illegitimate presence in the Knesset and prevents a situation in which the anti-democratic impeachment law would've been implemented. "
She added that Ghattas committed an unforgivable act for an MK, "but it is important to emphasize that in his grave offenses he represents only himself and not hundreds of thousands of Israeli Arab citizens."
MK Oded Forer (Yisrael Beytenu) attacked the plea bargain, saying, "The fact that it does not include the security offenses committed by Ghattas prepares the ground for similar actions in the future. Ghattas who saw his patron, Azmi Bishara, continue to benefit from Israeli taxpayers' money, apparently had no fear when he smuggled cell phones into jail and now we understand why."
"Instead of exhausting all the legal options and sending a clear message that will end the forgiving atmosphere towards inciting Knesset members, supporters of terror and shaheeds, Ghattas will only serve two years in prison, minus one-third, over security offenses that no one disputes posed a real danger to human life. The message that this deal sends to Ghattas and his friends is that assistance to terrorists apparently paid off for the terrorist Ghattas," added Forer.