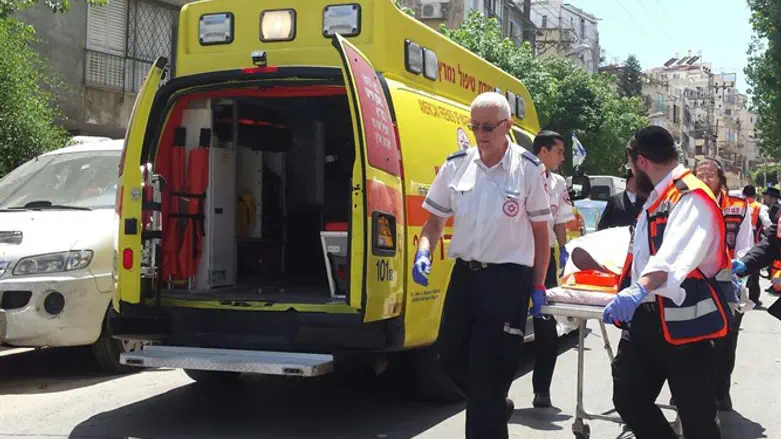 MDA ambulance
MDA spokesperson
On Wednesday, March 15, 2017, Magen David Adom conducted a conference attended by 25 neurologists and emergency medicine doctors from various hospitals in Israel, to unveil a new lifesaving app feature. The conference took place at MDA's National Command and Control Center in Kiryat Ono.
In the conference, MDA unveiled the new model for treatment of stroke cases enabled by a new mobile application feature. The model was developed by the in-house Magen David Adom development team and in collaborating with Dr. Roni Eichel of Shaare Zedek Medical Center and has been successfully tested in a pilot over the past few months. The new model is planned to be introduced in all Israeli hospitals.
According to Dr. Eichel, a stroke may erupt suddenly, and from the moment it does a "countdown" begins – every moment that passes counts. Every minute that goes by without the patient receiving medical treatment, he or she may lose 2,000,000 brain cells, causing irreparable damage and severe disabilities. Therefore, there is a tremendous importance to proper and rapid evacuation, diagnosis and treatment.
The new app, available to all staff members of MDA, allows for a new, faster model for treatment of patients suffering a stroke. Once the MDA team has reached and examined the patient, they will instantly transfer the data required for admission to the trauma department. Such data includes: demographics (in order to already have an admission file), blood pressure, heart rate, respiration, neurological symptoms and an estimated time of arrival. Simultaneously, the teams will contact the hospital neurologist in order to provide more details. Once the information is sent, a special code is activated at the hospital which opens a patient file and books a CT scan before the patient even reaches the hospital. The relevant medical staff will also arrive and await the patient at the trauma center. This is a new approach, where the hospital awaits the patient and not the other way around.
Regarding the new development, MDA Director General, Eli Bin said: "MDA is glad to collaborate with Shaare Zedek Medical Center in order to lead an improvement in medical treatment for stroke patients. MDA is at the forefront of emergency medicine and pre-hospital technology and is considered a global leader in the field. Investing in human assets, trainings, and innovative technologies is the engine behind MDA's ability to maintain its high standard lifesaving capabilities. I hope that this feature will soon be used by all hospitals in the country and will help to make patient treatment more efficient."