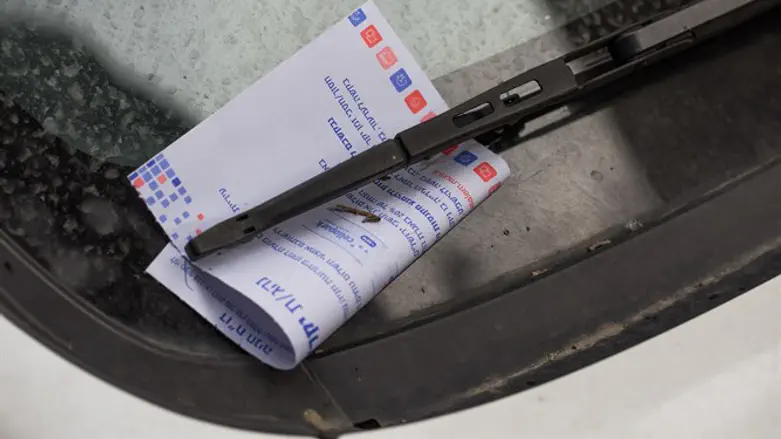 Parking ticket
Flash 90
Do disabled citizens in Tel Aviv not have the right to visit places of entertainment or culture?
A.G. wrote to Arutz Sheva, "On February 26, at 10:46 p.m., I received a fine for parking in a place which did not disturb traffic.
"My car has a disabled sign on the windshield. It's true that where I parked wasn't marked for disabled citizens, and it's true that I didn't park in a free parking lot, but that's because there aren't enough of them in this city! Besides for that, I parked in a place which met the criteria on my disabled citizen's note, and I did not disturb traffic or endanger others.
"Leave the disabled alone. There are enough things to fix without forcing the disabled to shoulder an even larger financial burden. I parked my car in a safe place which did not endanger others or disturb traffic."
The Tel Aviv municipality responded, "The parking fine in question was given legally, for parking illegally. The disabled citizens sign states explicitly that the car may not be parked at a junction or within 12 meters from a junction.
"The owner of the car may file a complaint if she wishes to.
"The Tel Aviv-Jaffa municipality is sensitive to the disabled population and works to invest efforts and resources into order to make their lives and transportation easier. However, the municipality must still fine cars belonging to disabled owners if they are parked illegally and liable to cause disturbances to the flow of traffic, pedestrians, strollers, or wheelchairs.
"Those whose cars carry a disability sticker are not exempt from following the rules. The municipality has a responsibility to ensure the good of all of the city's residents."
According to A.G., the car was not parked within twelve meters of a junction, and did not disturb the flow of traffic.