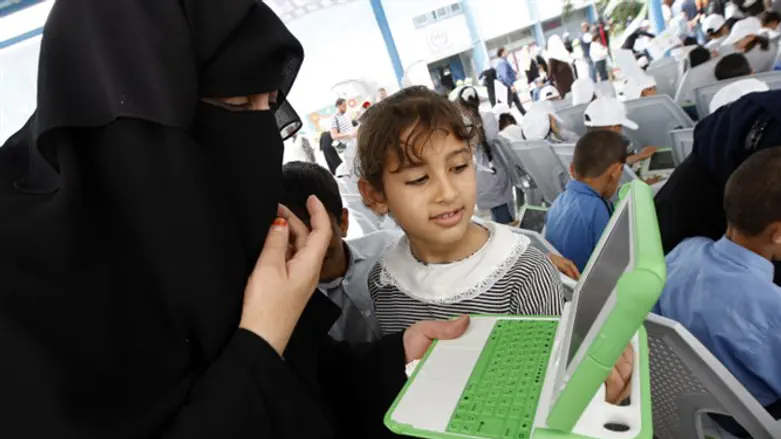 Illustration
Flash 90
The Muslim population in Britain is growing so fast that Muslim pupils outnumber Christians in each of more than 30 church schools. One Church of England primary school has a "100% Muslim population," according to the Sunday Times, while the local diocese in Werneth, Oldham reports the same for its St. Thomas school.
The Church of England estimates that about 20 of its schools have more Muslim pupils than Christians, while the Catholic Education Service says the same for 15 Roman Catholic schools. Some church schools include Islamic prayers in their services.
In Staincliffe Church of England's Junior School in Batley, West Yorkshire, 98% of the pupils "come from a Muslim background."
Another indication, Gatestone Institute reports, is that almost half of the new homes built in the next five years will go to migrants, according to government figures. It is estimated that an extra 5.3 million new properties could be needed to meet the growth in population over the next two decades, and an extra 2.4 million of the new homes will be needed for migrants alone.
Jim Walker, a 71-year-old clock-winder at Carnforth Railway Station in northern England, has been banned from the premises – because of an alleged racist comment he made. For more than a decade, Walker has been voluntarily winding a famous clock at the station. This has now come to an end, because he was overheard discussing a newspaper article about young migrants – most of them, admittedly, Muslims - entering Britain. The fear of offending Muslims has come to the point that he was let go because "Carnforth Station Trust received a complaint from a visitor who was not happy about me speaking to somebody about the issue," Walker said. "What they are doing is outrageous. It is absolutely unbelievable, it is a violation of free speech.... I must be the only man in Carnforth who has a document saying where he can and can't walk - and all for expressing a point of view."
In other February events in Britain, six Muslim men shouted "Allahu Akbar" as they were sentenced at Sheffield Crown Court for a total of 81 years for sexually abusing two girls in Rotherham.
Gatestone also reports that Muslims who wish to leave their religion face harassment – and the police can do nothing. A month ago, Faisal Bashir, 43, and his family were forced to move out of their home because of ongoing harassment after he stopped attending mosque services. Police dismissed his pleas for help as "just a nuisance." The Chairman of the Ilford-based British Pakistani Christian Association (BPCA) said, "Police and councils up and down the country just don't understand the level of animosity people choosing to leave Islam can face."
On the other hand, counter-terrorism police have launched an investigation into claims that Trish O'Donnell, head of Clarksfield Primary School in Oldham, was being forced to work from home after death threats from Muslim parents opposed to her Western values. O'Donnell has reportedly been threatened with having her car blown up and other intimidation and abuse from parents pushing conservative Muslim ideals. The school is mostly filled with Pakistani pupils who do not speak English as a first language.