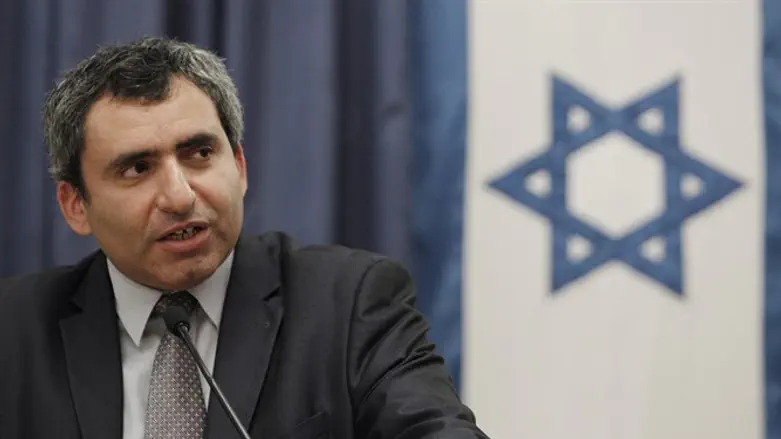 MK Ze'ev Elkin
Flash 90
Minister of Jerusalem Affairs and Environmental Protection Ze'ev Elkin (Likud) defended Defense Minister Avigdor Liberman for his statement Monday that annexation at present would lead to a crisis in relations with the US.
Elkin said that "we don't need to receive messages from them to understand that the Americans will not be gratified if we surprise them and declare sovereignty [over Judea and Samaria] on Sunday," said Elkin on Army Radio. However he added that " despite this, if Liberman believes that all talk of annexation should cease and we should remove this goal from our arsenal, I think he's wrong."
However Minister Ayoub Kara (Likud) stated Tuesday that "Israel shouldn't apologize for intending to annex Judea and Samaria. We should be determined to implement our right to these historic areas of our homeland. Politicians who mistakenly believe that we are still in the Obama era need to 'change their disk.'"
Defense Minister Liberman said on Monday at a Foreign Affairs and Defense Committee meeting that "anyone who wants to apply Israeli sovereignty to Judea and Samaria needs to understand that such a step will bring immediate repercussions from the new US government.
"We received a direct - not indirect - message: 'Apply sovereignty and you will be cutting ties with the new government.' The coalition must explain, once and for all, that we will not apply sovereignty. Anyone who wants a crisis and who has 20 billion NIS to spare is welcome to apply sovereignty."
Liberman's statement also led to sharp criticism from right-wing Knesset members from the Land of Israel lobby which termed Liberman's comments "scare-mongering" and "intimidation".
"You need to stop this scare-mongering campaign against sovereignty," said Land of Israel Lobby members Bezalel Smotrich (Jewish Home) and Yoav Kish (Likud).
"One cannot be an 'occupier' in their own land, so what we're talking about isn't 'annexation', but extension of sovereignty in our land. We will continue in the footsteps of the Zionist leaders who extended sovereignty over parts of our land in 1948, 1967, and 1981," said the MKs, referencing the establishment of the State of Israel, the annexation of eastern Jerusalem after the Six Day War, and the application of Israeli law to the Golan Heights in 1981.
"Now the time has come for the next step: We will promote a law extending sovereignty over Maaleh Adumim, and it will receive majority support both in the Ministerial Committee for Legislation and in the Knesset plenum."
Deputy Foreign Minister Tzipi Hotovely (Likud) also castigated Liberman over what she called his attempts at "intimidation".
"Minister Liberman is attempting to create a reality that does not exist yet in Washington. The political dialogue with the Americans hasn't started yet, the current administration hasn't put together any strategic plan for the region yet. The American government is open to considering new policies and all of the options are still on the table."