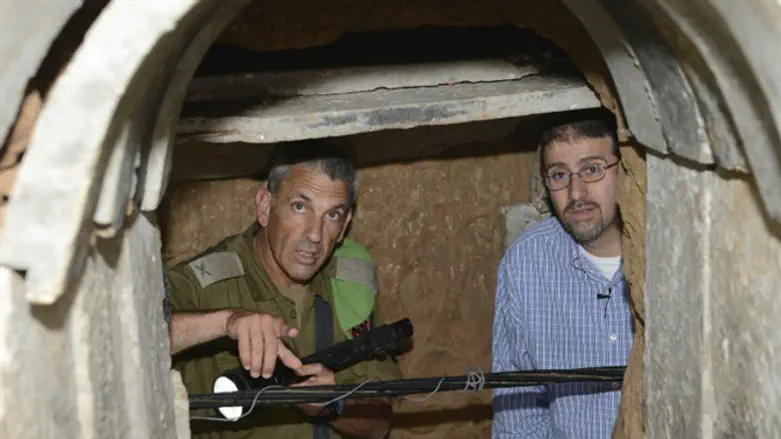 Brig. Gen Eidelstein in exposed terror tunnel
Flash 90
Education Minister Naftali Bennett (Jewish Home) responded to the State Comptroller's report on Operation Protective Edge.
The report released by Yosef Shapira clearly verifies that Bennett was the one who pushed for the destruction of the Hamas terrorist tunnels during the Gaza operation.
"The tunnel destruction operation in Protective Edge prevented a strategic mass-casualty simultaneous attack from dozens of tunnels against the residents of Gaza vicinity and the country's south. It is important to tell the bereaved families - your son's death was not in vain," said Bennett.
"Indeed, quite a few errors were made that must be corrected. The comptroller's report shows us a road map for repair and improvement of the Cabinet's work. We must not resist the lessons, but implement them responsibly and with determination", added Minister Bennett.
Terror tunnel
Reuters
Earlier in the evening, Lt. Gen. Gadi Eizenkot responded to the State Comptroller's report on Operation Protective Edge: "The IDF has clear vocation: to defend the country, to ensure its existence and if necessary, to employ force to triumph and win the war. 75 soldiers and civilians fell in the campaign; they paid the heaviest price," Eizenkot said in a speech to outstanding students in the Galilee.
The Chief of Staff said that "the IDF drew its lessons, assembled a working plan and strives continually to improve its operational capabilities on the Gaza front.
"The army is not immune from criticism of Protective Edge, the war on terrorism, and events taking place in the army. But we must remember that these are exceptional people who devoted their lives to Israel's security and contributed to a better future for the State's citizens and residents," added Eizenkot.
Earlier, former Minister Moshe Ya'alon deflected criticism in the report, in light of the fact that Ya'alon did not inform cabinet members of the tunnel threat's seriousness.
"The Protective Edge report has become a political statement. This report examines partial aspects of a complex battle. It ignores wider considerations, because is has fallen captive to special interest politicians who fed the Comptroller's office tendentious information, and polluted his investigative process," said Ya'alon.
"The cabinet during Protective Edge was the worst and most irresponsible I have known. It was a superficial cabinet, a political and populist cabinet of leaks, of speaking in two voices. The discussions were one big farce; if not for Netanyahu, the Chief of Staff, and I, it could have ended in disaster," said the former Defense Minister.