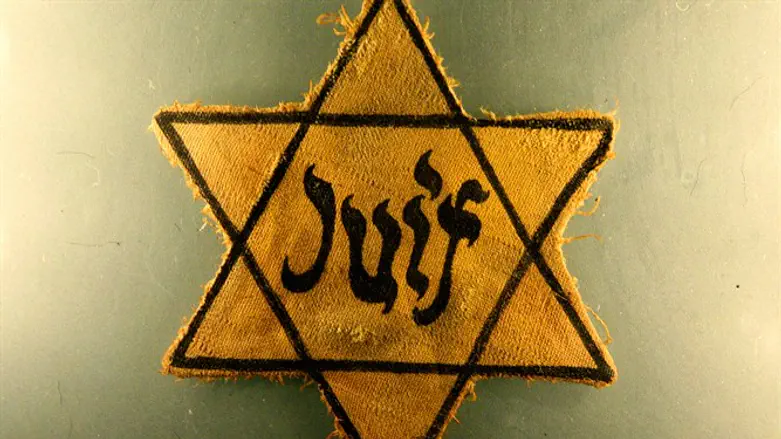 Yellow star (file)
Moshe Shai/Flash 90
Internet store YNJEWELRY has begun selling necklaces whose yellow gold pendants are shaped like yellow stars - the same yellow stars Jews were forced to wear during the Holocaust.
"It's not a yellow star," store director Yechiel Piron insisted. "The yellow star is a piece of fabric, and we're selling a chain which comes in other colors such as silver and pink gold."
The stars are engraved with "Jude" or "Never again."
"We could be talking about Pharaoh and the exodus from Egypt," the site said. "We could have written pages about Kristallnacht, Hitler, and the Holocaust - but we didn't!! We live in Israel, and today there is no place in our country for enemies and anti-Semitism. We are the only ones who can right the wrongs and erase what has been done against us.
"We have decided to create a special piece of jewelry, a 'Jude' Star of David pendant which will help us identify with Jews in Israel and abroad, and we want everyone to know that 'never again' will we be singled out and shamed by anyone. We want everyone to know that we are free in our country of Israell [sic], the only Jewish country and the country which we have received from the Creator of the world."
The store is currently selling the pendants for 2,600 NIS. The pendants are made of 14 karat gold, with black enamel engravings.
"In the future, we will sell jewelry unrelated to the Holocaust as well," Piron said.
The reactions were mixed.
"So cool! The first Jews who managed to make money off the Holocaust!" wrote Tal Oren.
"Such bad taste. There's nothing you won't misuse to get money, right?" Roi Meirovitz wrote.
"This is horrific! It's a symbol the Nazis invented for Jews, it's a symbol of shame!" wrote Sara Sternberg.
Karnit Mendel-Sinek wrote, "You have it in 'dead yellow.'"
YNJewelry responded, "We did not intend to insult anyone or cause harm. We want people to remember Jewish history through gold jewelry which will last for several years and generations to come. The jewelry is intended for Jews in Israel and abroad."