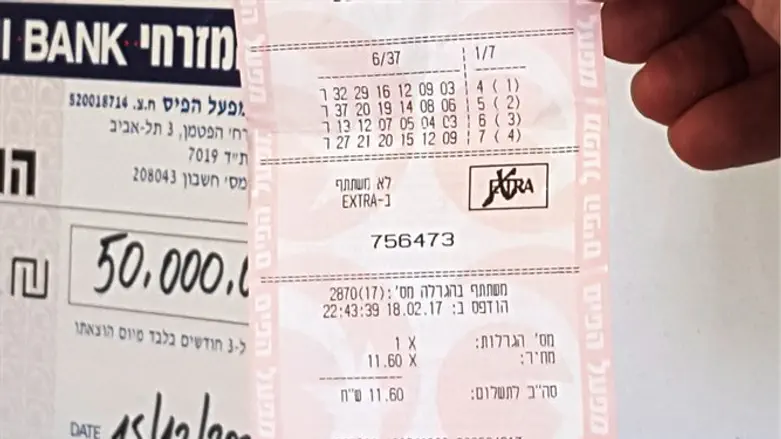 Winning lottery ticket
Avi Haim
A haredi couple from the capital claimed the Israeli lottery's grand prize Sunday morning, after they purchased the winning ticket Saturday night.
The couple, in their mid-40s with six children, say they rarely play the lottery and only hoped to win enough to cover an outstanding electric bill of 4,000 shekels ($1,080).
Instead, however, the couple ended up winning the jackpot, totaling some 12.5 million shekels ($3,375,000).
This winter, the couple said, they used a number of electric heaters to keep the house warm and their children from catching cold. But the bills from the electric company quickly piled up, leaving the family with a seemingly impossible debt.
"There were very cold days, and we used the heaters a lot so the kids wouldn't get sick. When we got the bill, we didn't know how we could ever pay these huge bills. So we said, 'let's fill out a lottery ticket and pray that we win enough to pay the electric bill'."
The two purchased the winning ticket at a lottery booth at the Malha Mall in southern Jerusalem for 11.60 shekels ($3.13).
"This is the third time I've ever purchased a lottery ticket, and when we found out that we had won, we didn't jump up and down – we took a book of Tehillim (Psalms) and said 'thank you' to the Creator. We couldn't fall asleep. We were very happy and excited from the great gift we had received."
When asked what they planned to do with their new fortune, the couple said they planned to first pay off their debt, then visit the graves of prominent rabbis, beginning with Rabbi Nahman of Breslov.
"With the rest of the money, we will go on living a modest life as we did before we won. With God's help, we'll move to an apartment suitable for six children, and we'll support Torah scholars."