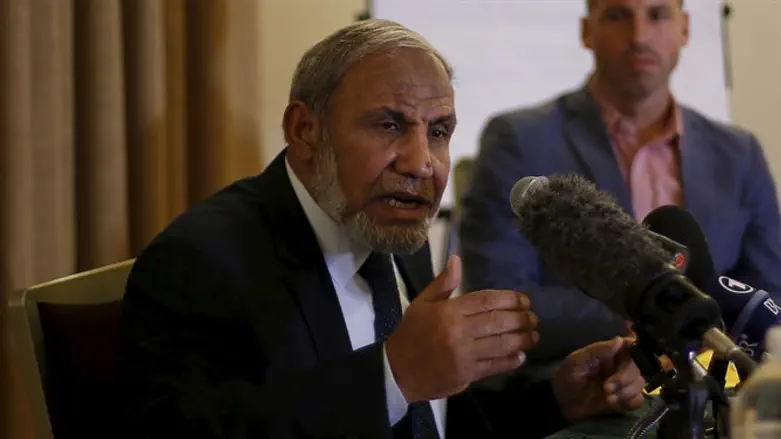 Mahmoud Al-Zahar
Reuters
Senior Hamas leader Mahmoud Al-Zahar on Friday rejected Defense Minister Avigdor Liberman's offer for an international airport, seaport, and industrial zone in Gaza if Hamas stops building terror tunnels into Israeli territory, stops firing rockets on southern Israel and returns the Israelis it is holding in Gaza.
"Release the Palestinian prisoners and you will get your prisoners back," Zahar told an Arabic-language newspaper, according to a translation by the Walla! Hebrew-language news website.
He called for the release of the "heroic fighters from all factions" from Israeli jails in exchange for the release of the soldiers whose bodies Hamas has been holding. "We care about our prisoners more than you care about your soldiers," said Zahar.
He also rejected the idea of the return of the Israelis as a condition for the establishment of a seaport and airport.
"This is a prisoner exchange. If we wanted to turn Gaza into Singapore, we would have done it ourselves. We do not need favors from anyone," declared Zahar.
In a video interview released on Thursday, Liberman said that should Hamas cease its attacks on Israel and efforts to build terror tunnels into Israeli territory, Israel would be willing to invest in the construction of sea and airports, as well as industrial zones, in Gaza.
"The second that Hamas gives up on the [terror] tunnels and rockets, we will be the first to invest and build for them both a seaport and airport, as well as an industrial zone – both in Kerem Shalom and in Erez," said Liberman, referring to border areas near crossing points into Israel.
"We could immediately create 40,000 jobs for Gaza residents, assuming Hamas gives up its [charter] article [calling for "the destruction of the State of Israel", gives up on the tunnels, gives up on the rockets, and, of course – and this is the first and most important thing – returns the bodies of our soldiers and returns our civilians being held captive," he added.
(Arutz Sheva's North American desk is keeping you updated until the start of Shabbat in New York. The time posted automatically on all Arutz Sheva articles, however, is Israeli time.)