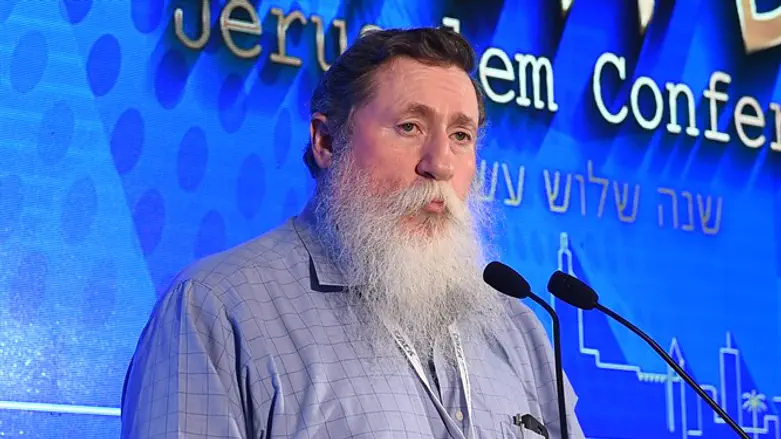 Yaakov Katz
צילום: ישראל ברדוגו
Former National Union leader Yaakov Katz ("Ketzale") addressed the 14th Jerusalem Conference and gave the speech which, in his words, "Prime Minister Netanyahu should have given before meeting President Trump." Here it is:
"Citizens of Israel, Brothers and Sisters, those who reside in our land and those still in the Diaspora, those in more challenging exile and those in more bountiful exile:
"On the eve of my meeting with the president of America, Donald Trump, I wish to summarize for you our situation today and the vision which I see in the years left to me as prime minister.
"Thank G-d there are now close to 7 million Jews living in Israel. We are celebrating 50 years since the war of redemption, the Six Day War. More than 800,000 Jews reside in the parts of the land redeemed during this war. About half a million live in Judea and Samaria and another 300,000 in the eastern neighborhoods of Jerusalem.
"Immigration to Israel is small but growing, even from Western nations. The mountains of Israel are giving forth their fruit as the prophet says: 'And you, mountains of Israel, give forth your branches and bear your fruit for my people Israel, because they are coming soon.'
"The cities of Israel are being built and occupied by large numbers of people in our great and holy land. Economically we are one of the most thriving nations in the world with an annual GNP of 4-5%. Hundreds of thousands of people are sitting and studying Torah for its own sake in thousands of Torah institutions, in a style and magnitude hitherto unsurpassed.
"The State of Israel is thriving in academia and hi-tech and these represent the basis for an even greater future.
"Brothers and sisters, I own up to my sins today.
"Eight years ago the previous president of America, Barack Hussein Obama, entered his post with the goal of establishing an Arab state in the biblical territories of the Land of Israel.
"I, who for years had written books and given speeches against this idea and had passed resolutions in the Likud Central Committee declaring that there could not be another state established within the area of the Land of Israel, both because of our historic rights and out of security considerations for Israel, as I had preached all of my life, that the Jewish nation cannot be forced into a ghetto 4 miles wide and 30-40 miles long.... I capitulated.
"I admit that I capitulated. Obama's relentless pressure broke me and I spoke against the values I received from my prestigious father, Prof. Bentzion Netanyahu and in contrast to the bravery and the heritage of my family who fought for the establishment of an independent and free state which would not be dependent on a terror state.
"I said things which were never approved by the Likud Central Committee or the Knesset faction and I beg forgiveness from my brothers, those who lived in previous generations and envisioned the return to their land, those tens of millions of Jews who were murdered and butchered and in whose merit our fathers established a state here and to those who are destined to live here in future generations.
"I beg forgiveness for having preached a morally repugnant idea. I apologize to everybody for having even mentioned such a deplorable and ridiculous idea.
"Now as I go abroad to meet a new president who has a loving heart towards the Jewish nation and towards the State of Israel, who is not afraid of those around him, who has decided not to be beholden to the media, the radical and perfidious power which has made its goal in America and in Israel to destroy everything connected with the Jewish roots and nature of the State of Israel.
"Now I address you. I want to promise you that from now on I will learn from him what is true courage and daring. I am telling you, my friends, people of Israel young and old, I am taking to heart the words of the person I so admire, Winston Churchill: 'To improve is to change; to be perfect is to change often.'
"I am changing my view to that which I held steadfastly until a few years ago: that the Land of Israel should be one state and it should be the Jewish state.
"I will draw strength from the great men of Israel like David, King of Israel, Gideon the Judge, Samson the Strong, Judah Maccabee and the G-d of Israel. I will abandon the ways I adopted in the past eight years and I will lead the State of Israel to days of immigration, prosperity and development, construction and innovation.
"When I meet US president Donald Trump, I will tell him what Simon the Maccabee said: 'We did not conquer a foreign land and did not extend our rule over another people, we have returned to the land of our fathers which had been conquered by our enemies.'"
This is the speech which Prime Minister Netanyahu would have been expected to give prior to his leaving for America.
Thank you very much.