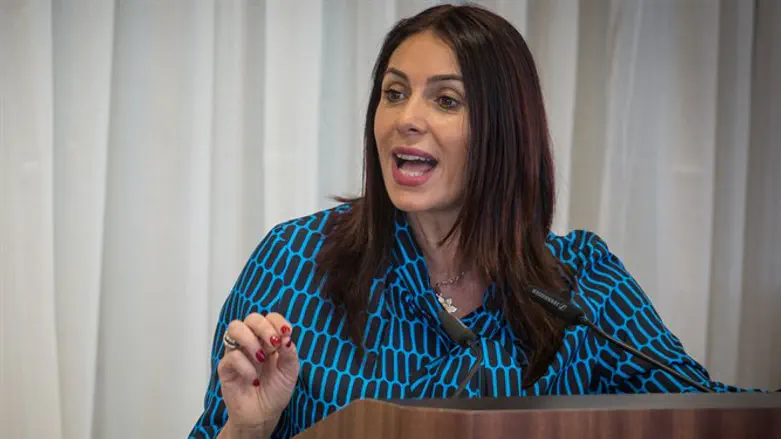 Miri Regev
Flash 90
Minister of Culture and Sport Miri Regev addressed the 14th Jerusalem Conference of the BeSheva newspaper Monday. Regev referred to the forthcoming meeting between Donald Trump and Netanyahu. "After 8 years of dealing with a challenging administration, new winds are blowing in the White House. President Trump is a friend of the State of Israel, he knows our interests and the needs for cooperation between the countries."
She added that "the President reiterated a number of times that the settlements are not an obstacle to peace. At the same time, a Palestinian state is no solution for peace. I've said it many times, there's room here for one national state - the State of Israel. Only the Jews have national rights to this land. There are of course other residents who have rights and their status must be arranged, but there is no automatic connection between the status of a region and the status of its residents."
Regev said that "there is not and there will not be a freeze on Jewish construction in any place in this land. There is only one area, the area of the land of Israel and we must build and build in it. In the last few days I have heard ministers trying to teach the Prime Minister about settlements. I know from my conversations with the Prime Minister that he well understands the historic opportunity represented by the Trump administration and I'm certain he will return with good news for the country and for settlement expansion."
Regev referred to the closure of the Barbur gallery last week and said that people had claimed this was a "quashing of free speech". She stressed that "freedom of speech is not freedom of funding. Every person has a right to express his opinion but there will not be public funding for those who undermine the State of Israel."
Regev also referred to the change in budgetary allocations which she initiated, stating that she was promoting a social revolution termed "from the elite to the people." She added "I see this as as the basis of Zionism in our time. The cultural institutions must be a home for everyone. Until recently the cultural institutions served a narrow sector of the populace with homogenic views. We are effecting an historic change by opening the front door to those who until now had to go through the window. The gaps in allocation of resources between Tel Aviv and Judea and Samaria and the periphery are impossibly, absurdly wide.
"We have come to rule, to decide agendas, to lead, to effect painful budgetary changes. Those who are used to enjoying 40% fat cheese will have to cut back in favor of those who eat non-fat cheese. The implementation of the vision of 'from the elite to the people' is the most just, right, true, and correct part of my activities. Cultural justice is no less important than any other right," concluded Regev.