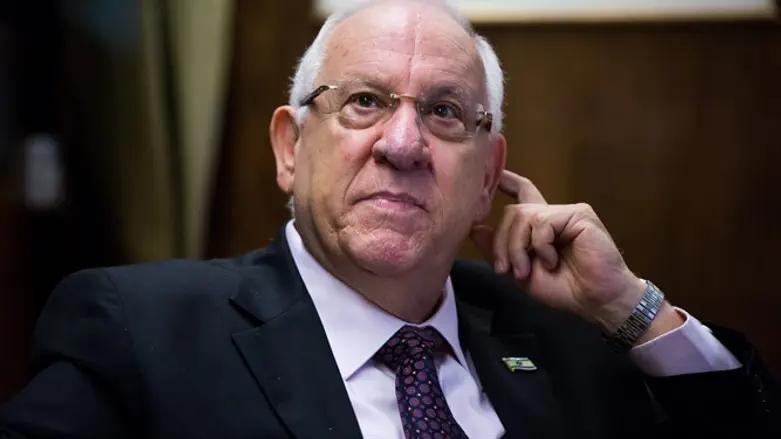 President Reuven Rivlin
Flash 90
Israeli President Reuven Rivlin said on Monday he supports applying Israeli sovereignty to Judea and Samaria - but only if it is applied equally to both Jews and Arabs.
At the 14th Besheva Jerusalem Conference, Rivlin said, "For two thousand years, we dreamed of returning to Israel. There was never a situation in which the Jewish nation gathered more than six million Jews in its land. This is the beginning of our redemption. It began with tens of thousands and hundreds of thousands, and now it has become a country of millions. Political Zionism believes that the return of the Jewish People to Israel is dependent on the nation's ability to settle the land. In every place, the challenge will be different."
"Jerusalem was the 'old settlement,' (the 'yishuv hayashan' of observant Jews, ed.)and only after forty years did they realize they needed to start building neighborhoods outside the Old City's walls. The political Zionism we have today understands that without settling valley and mountain, Negev and Galilee, we will not be able to create a national infrastructure upon which to base our existence as an independent nation. Slowly, step by step, we have built a sovereignty which is not just theoretical but also practical.
"In Jerusalem's eastern neighborhoods, sovereignty has already been legally applied. The laws used began the process of sovereignty, and later on, other laws fixed what needed fixing. Anywhere that there is sovereignty, all the citizens are equal - both Israelis and non-Israelis. The sovereignty granted them citizenship and Israeli law was applied to them.
"It must be clear that if we apply sovereignty, the law will be equal. Today this topic came up, and we need to find a diplomatic way to live with Israel's other residents. Whether we're a confederation or one country will be decided by Israel's democracy.
"What is clear is that in order to prove there is no contradiction between Israel being a Jewish country and a democratic country, we need to enact laws which will apply to those places over which we will not apply our sovereignty.
"In 1972, I bought, together with friends, land in Nebi Samuel (between Jerusalem's Ramot and Givat Zeev, ed.) We bought these lands from Yousef Alian, who was the village mukhtar. For eleven years, I worked to register this land with the Israel Land Administration in Ramallah, and every time, I was rejected. Finally, I went to the Ramallah court and they ruled the lands should be registered under my name.
"I had 58 dunams registered in Ramallah. One day the Israeli government decided to build a national park and the Har Shmuel neighborhood. So the government did an exchange and took my lands and gave me a different plot in Har Adar outside Jerusalem. All of this happened when I was a private citizen. There is no question that every person who built a home in good faith needs to be compensated by the government if they are evicted.
"These people were sent by the government to build their homes and settle the land, and the government built them roads and connected them to the electric grid. The government must deal with the consequences of their decisions. But when we look at the bigger picture, the entire issue of settling the land of Israel needs to be thought about. We can't ignore this question today, when Israel is deciding whether or not to annex Judea and Samaria. All of the settlement blocs are Israel. But international law applies to us as well, and we need to decide whether to apply sovereignty.
"I want to emphasize that I believe all of Zion is Israel, from the ocean to the river. Sovereignty will grant all citizens living in the area Israeli citizenship. There are no exceptions. There will not be one law for Israelis and another for non-Israelis. This law will apply to both Jewish towns and Arab towns."
"Regarding the possibility Tzipi Livni (Zionist Union) will be appointed as Under-Secretary General of the UN, I want to say that if Livni is appointed to such a high position in the UN, it will be a good thing. It is no secret that she and I have disagreed many times over the years, mostly about the subjects I mentioned today, but I have never doubted her amazing abilities and how much she has done over the years. I believe she will do a lot of good for Israel in the coming years if she is appointed.
"At this critical point, when we need to reconnect the UN to Israel, I am sure Livni's appointment would be a true blessing," he concluded.