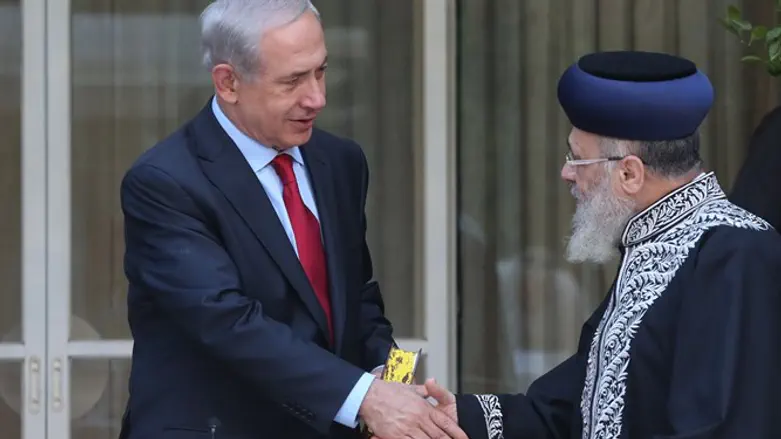 Rabbi Yosef and Binyamin Netanyahu
Marc Israel Sellem/POOL/Flash90
Sephardic Chief Rabbi Yitzhak Yosef spoke with Israeli Prime Minister Binyamin Netanyahu Sunday night about the Prime Minister's upcoming trip to visit US President Donald Trump.
"May the Holy One, Blessed be He, be with your words. You are the representative of the entire Jewish nation, and there is no doubt God will aid you," Rabbi Yosef said.
"I am moved by your blessing, and hope to do everything I can for the sake of Israel's security," responded Netanyahu. "I am reminded now of the conversations I had with your father before my trips, and I feel his blessing is accompanying me now, through you."
Netanyahu will leave on Monday for Washington, D.C., and will return on Wednesday after his meeting with Donald Trump.
On Sunday, the Cabinet held a four-hour-long meeting in which they discussed Netanyahu's upcoming trip and which topics he would discuss with Trump during their meeting.
Jewish Home ministers demanded Netanyahu not discuss the "two-state solution" with Trump.