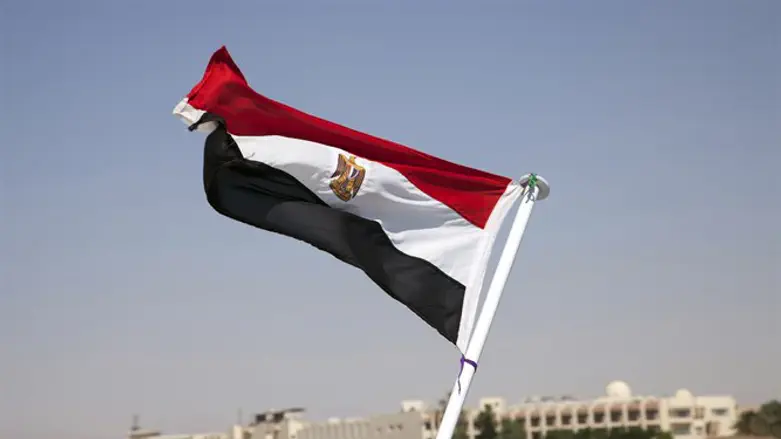 Egyptian flag
iStock
A televised debate on whether Shiite books should be banned at a Cairo international book fair turned ugly recently, when Salafi cleric Sheikh Mohammad Al-Mallah called his opponent an "idiotic madman" who is "proficient in the art of stupidity, idiocy, and the defense of superstitions" and threatened to "hit him in the face with a shoe."
Islamic researcher Yasser Farawila responded that he would retaliate "with 30 shoes." The threats eventually turned into action, and cups of beverage and chairs went flying in the studio.
The TV host, while trying to separate the guests, apologized and thanked the viewers for watching, as the credits rolled.
The debate aired on the Egyptian Alhadath Alyoum TV channel on February 2 and was translated by the Middle East Media Research Institute (MEMRI).
MEMRI has several times caught debates which turned into verbal and sometimes physical arguments.
These include a televised debate on the political situation in Egypt which turned ugly as the participants got angry and threw water at one another; a Sunni Egyptian activist who attacked a Shiite activist after the latter insulted his wife; and two commentators who got into a fight while discussing the Syrian civil war on Hezbollah television.
Brawls are a common occurrence in parliaments in the Arab world as well. Last year, an Egyptian parliamentarian was attacked by another lawmaker who threw a shoe at him, in anger over the former inviting the Israeli ambassador to dinner at his home.
In 2013, a Jordanian MP opened fire using an AK-47 on one of his colleagues for reasons unknown. No one was hurt.
Most recently, a brawl erupted at the Turkish parliament as lawmakers debated constitutional amendments that would expand the powers of President Recep Tayyip Erdogan.